In this article, you'll learn how to set up custom closures for your facility.
About Custom Closures
Custom closures should be used anytime your facility will be closed during your normal business hours (e.g., in observance of a holiday, for a temporary event like an employee vacation, or a facility construction project). Creating a custom closure will prevent SpareFoot customers from scheduling move-ins on days you're unavailable, so it's important that you utilize this option to keep our shoppers in the loop and avoid confusion!
Keep in mind: Custom closures will prevent customers from scheduling move-ins on days you're closed, but your facility will still be visible to SpareFoot shoppers on these dates. Setting a custom closure will not hide your facility from our network, or prevent customers from making a reservation for a different move-in date when your facility is open. If you'd like to temporarily prevent customers from viewing your facility on our network and making reservations for available dates, check out our article on hiding your listing.
Custom closures are also different from your facility's regular hours. If you'd like to set, update or review your facility's listed Office or Gate/Access hours, please see our article on setting and editing your business hours.
How Do I Create a Custom Closure?
Need help logging into MySpareFoot? Check out this article for more info.
First, navigate to the "Hours" area of MySpareFoot.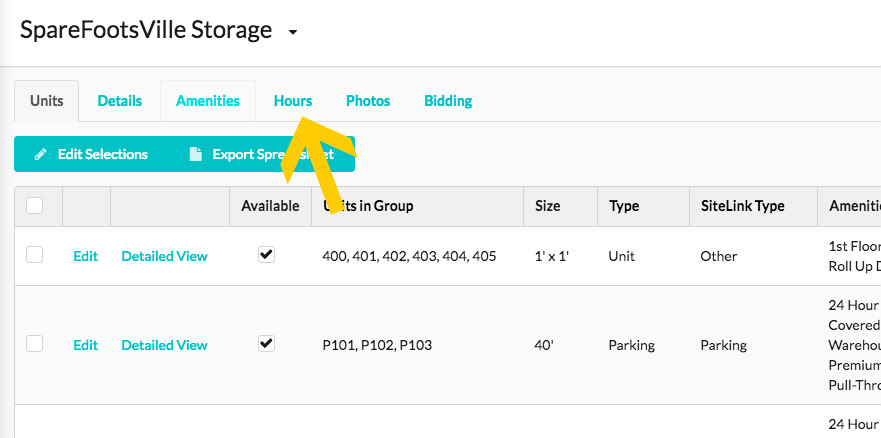 From here, you have two easy options for creating a custom closure at your facility.
Observed Holidays
All bank and federally recognized holidays are available for selection at the top of the Hours screen, so you can easily choose the most commonly observed dates. So, let's say your facility is closed Christmas Day. Simply select the Christmas Day check box to let customers know that you're not open on this day:

Holiday closures are permanent - if you indicate that your facility is closed on Christmas Day, our system will assume this is true every year. So, unless your schedule changes, you'll only need to set this information one time.

Once you've selected the appropriate holiday, scroll down to the bottom of the screen and click the blue Save Changes button. The closure will then be applied to your listing. Success!
Custom Closures
What if your facility is closed on a holiday that isn't included in our list? Don't worry, we've got you covered! The Custom Closures section allows you to create a closure for your facility on any day of the year.
Let's say your facility is closed on Christmas Eve. Simply scroll down further to the Custom Closures section of the Hours tab.
In the Starting date field, use the date selector to pick the day you'll be closed. The Ending date field will update automatically to the same day, creating a one-day closure on December 24th at your facility. Then, click the Add button.

Once you've added this date, it will appear beneath the date selector as an Upcoming Closure:

You can also use the date selector to input an extended closure - simply adjust the Ending date field to reflect the last day of your closure (the day before customers can begin moving in again). Extended closures will prevent customers from scheduling move-ins on your Starting and Ending dates, and all days in between.
Custom Closures are limited to three months at a time. If you need to set a closure for an extended period, you can add multiple closures of three months or less.
For example, if you need to be closed 5/7 - 10/31, you can create one closure for
5/7 - 7/31 and then another closure for
8/1 - 10/31 as in the screenshot below.

Removing a scheduled closure from your listing
Change of plans? No problem! You can easily remove any scheduled closures from your listing.
Observed Holidays: Simply uncheck the appropriate holiday in the Observed Holidays section, and click the blue Save Changes button at the bottom of the screen.
Custom Closures: Head to the Upcoming Closures section and click the X to the far right of the closure you wish to delete:

Once you've clicked the X, the closure will be removed from the list and your listing will update automatically. You're all set!
How closures appear on your SpareFoot.com listing
Dates that have been designated as closed in your MySpareFoot account will not be shown as available to customers booking a unit at your facility.
The customer can easily select an alternative date based on your facility's availability.