If you've forgotten your password to MySpareFoot, don't worry. We've got your back! Simply follow the instructions below to have a new password sent to you via email:
Step 1: Head to the MySpareFoot login page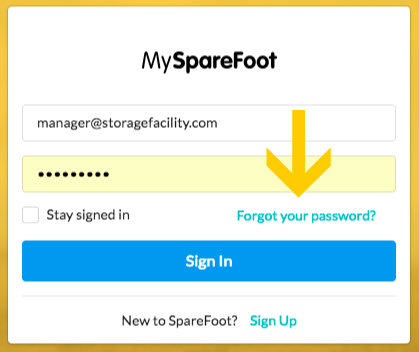 Step 2: Enter your email address in the pop-up window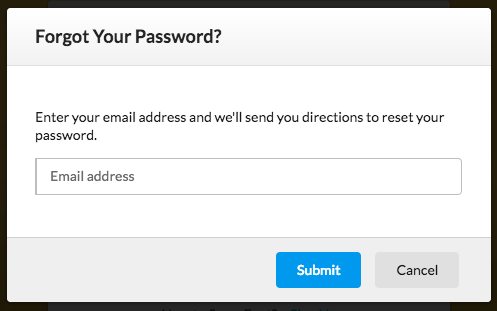 Be sure to double check for typos, since they could prevent our email from arriving. Then, click the Submit button at the bottom of the window. 
Step 3: Check your email
You'll see an email from SpareFoot with the subject "MySpareFoot Password reset." Open the email to retrieve your new password.
If you haven't received your password reset email after about 5 - 10 minutes and it has not been diverted to your SPAM folder, contact us - we'll get you taken care of right away!
Click "Reset My Password" in the email
Enter your new password twice and then click "submit." Assuming the passwords match, you'll be logged right in.
And you're done! You'll be logged into MySpareFoot and your new password will be saved in our system.
Some tips & tricks for using your new password:
Your new password will be a random combination of letters and numbers. Our passwords are also case-sensitive, which means that capitals count! So, if your new password is "SpArEfOoT2014," you'll need to enter it into the password field exactly as it's shown (capital "S," lowercase "p," etc.). We don't do this to be a pain - we take your security seriously!
Our password reset emails are sent from a "no-reply" email address that some email platforms may regard as possible SPAM. If your password reset email does not arrive in about 5 - 10 minutes, check your SPAM folder to make sure it wasn't blocked from your inbox.