When you provide SpareFoot with information about your storage facility, it allows us to provide the most accurate information to our storage-seeking customers. This information helps those customers make a well-informed decision about which facility they should reserve at. Since all of the information we provide about your facility comes from you, this information can be easily edited and updated in your MySpareFoot portal.
The highlighted information below is pulled from your MySpareFoot account and shown to storage-seeking customers on SpareFoot's front-end listings: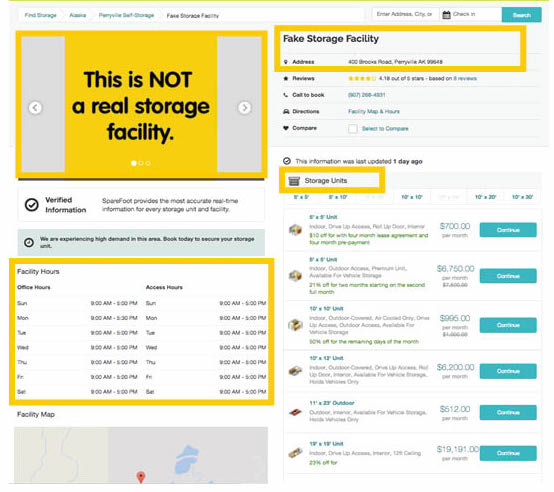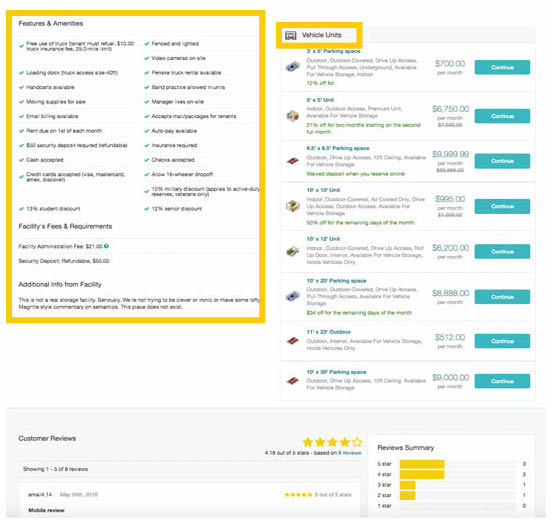 RULE OF THUMB: The information that customers see on SpareFoot.com is editable by you in your MySpareFoot.com account. To ensure your customers see accurate hours, units, amenities, and photos, simply make the modifications you need in your account and click "save". Your changes will publish to our site within 15 minutes.
But wait! There are a few exceptions to the rule of thumb.
Things you can update in MySpareFoot that won't show up on SpareFoot.com:
Your phone number: Even though calls to all phone numbers on SpareFoot route to our call center, we still need your real phone number! 
Your insurance or protection plan information: We're working on a way to display this information to customers before they make a reservation, but these fees are a bit tricky to explain online to a first-time storage user.
Your mailing address: We do not share your mailing address with customers.
Your website: This is used by us internally, in case we need to check or confirm any facility information on your site.
Your cell phone number: This is just to receive Tenant Connect Texts.
Your storage management software: Your software is your business. We use this information to know what software our clients are using at their facility so that we can better integrate our product into your workflow.
Things that show up on SpareFoot.com that you can't update in MySpareFoot:
Phone number
Remember, the phone numbers on SpareFoot.com are SpareFoot phone numbers. Calls to all phone numbers on SpareFoot route to our call center. 
Map pin
In the screenshot above, you'll see a red pin on the map. This is the location where we think your facility is located. Making sure this is in the correct position is hugely important, because that's how we compute your facility's location when it comes to search results and site ranking. If this is off by more than a few hundred feet, please submit a ticket to our support team. We'll get that fixed ASAP!