In most cases, customers who use SpareFoot to reserve a storage unit don't need any support from us. That's because we provide the customer and the facility with each other's contact information. It's very important to call SpareFoot reservations as soon as you receive them. We've developed a list of best practices for this follow-up call that we call the "warm fuzzy factor".
Any issues, questions or reservation modifications that need to be made can normally be handled between you and the customer directly. Remember, there's no need for anyone to let SpareFoot know if a customer switches their unit size, updates their move-in date, or moves in with a friend or family member. If you refer to the article about reporting move-in status to SpareFoot, you'll see that SpareFoot doesn't want to get between you and your new customer. We're here if you need us, but feel free to run your business as you usually do and deliver your out-of-this world customer service! 
Dedicated support
SpareFoot delivers value to customers who are looking for storage, because we're trying to make the process quick, free and painless. In a certain way, we think of ourselves as their best friends in storage.
Though we mentioned above that most customers don't need help from us (especially since we've already introduced them to you!), some do. And what kind of friends would we be if we left these customers high and dry?
Customers who have made reservations with SpareFoot can get in touch with our customer service team by phone or email, and we provide customers with this contact information in our emails to them. Storage facilities (like you!) have their own SpareFoot support team. Our contact information is here. 


The "Customer Portal"
We also allow customers to help themselves. Emails from SpareFoot include a link to what we call the "customer portal."
The customer portal looks like this: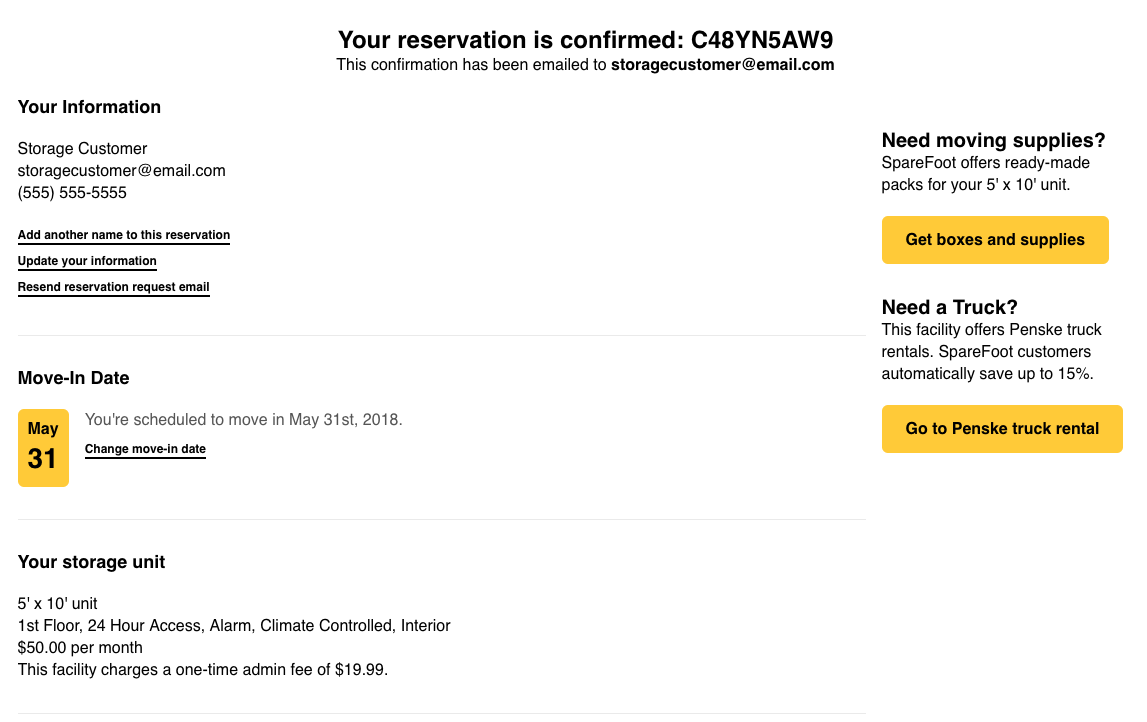 Here, customers can make basic changes to their storage reservation, like changing the date or updating their information. This also includes information about your facility - your contact information, a map of your facility's location as well as a reminder about your hours and amenities.
Any time a customer makes a change to their reservation (either with our support team or in their portal), you'll be notified by email.