Online marketplaces like SpareFoot encourage customer-submitted reviews on their websites. For customers, reviews build trust in the website and help influence their buying decision. For business owners, having lots of reviews (on sites like SpareFoot, Yelp and Google Local) is one of the best and easiest ways to build and expand their online presence.
SpareFoot is 100% committed to making it easy for consumers using our website to leave reviews, but we also have safeguards in place to ensure these reviews are truthful. This protects the online reputation of the storage facilities using our service and keeps our site an objective and trustworthy resource for shoppers.
Read on to learn about how SpareFoot encourages truthful and relevant feedback from your customers to help you get the most bang for your internet buck!
PHASE 1: SpareFoot follows up with your customers
Shortly after their scheduled move-in date, all customers that reserve on SpareFoot will receive an email inviting them to leave a review of their experience. Customers that choose to leave a review will be entered into SpareFoot's monthly drawing to win a $250 Amazon gift card!
PHASE 2: Your customers submit a review of their self-storage experience
Customers that choose to leave a review are asked to rate four aspects of their experience on a scale of 1 - 5 stars. These categories include overall experience, price, service and cleanliness.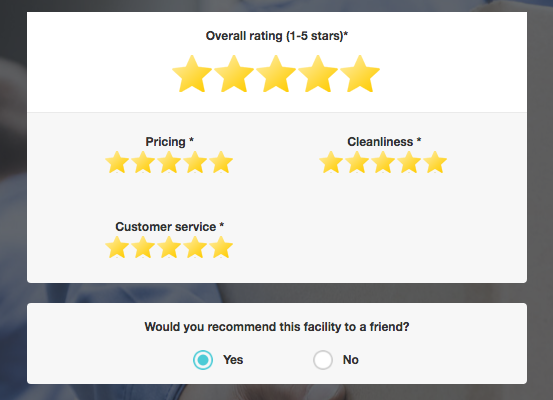 Next, customers can also choose to share more details by submitting a brief written summary of their experience and whether or not they would recommend your facility to a friend.
PHASE 3: SpareFoot vets the review for compliance with our policies
To ensure that all submissions meet our review terms and conditions, a real person reads each and every review that customers submit on our site. Reviewers must also verify ownership of the email address used to submit their SpareFoot review; this ensures that your review was written by a real person, not a robot or spammer.
Additionally, each reviewer must agree and adhere to our Review Terms of Service and Guidelines.
PHASE 4: Approved reviews are posted to your listing
Once the review has been approved by SpareFoot's team, it will be posted to your facility listing on our network of sites. You'll receive a notification email from SpareFoot with the subject "New Review for [Your Facility]."
You can view your reviews in your MySpareFoot account by clicking on the Reviews tab. If you have several reviews, you can easily filter and sort your reviews by rating stars, date, or search your reviews for certain names or words.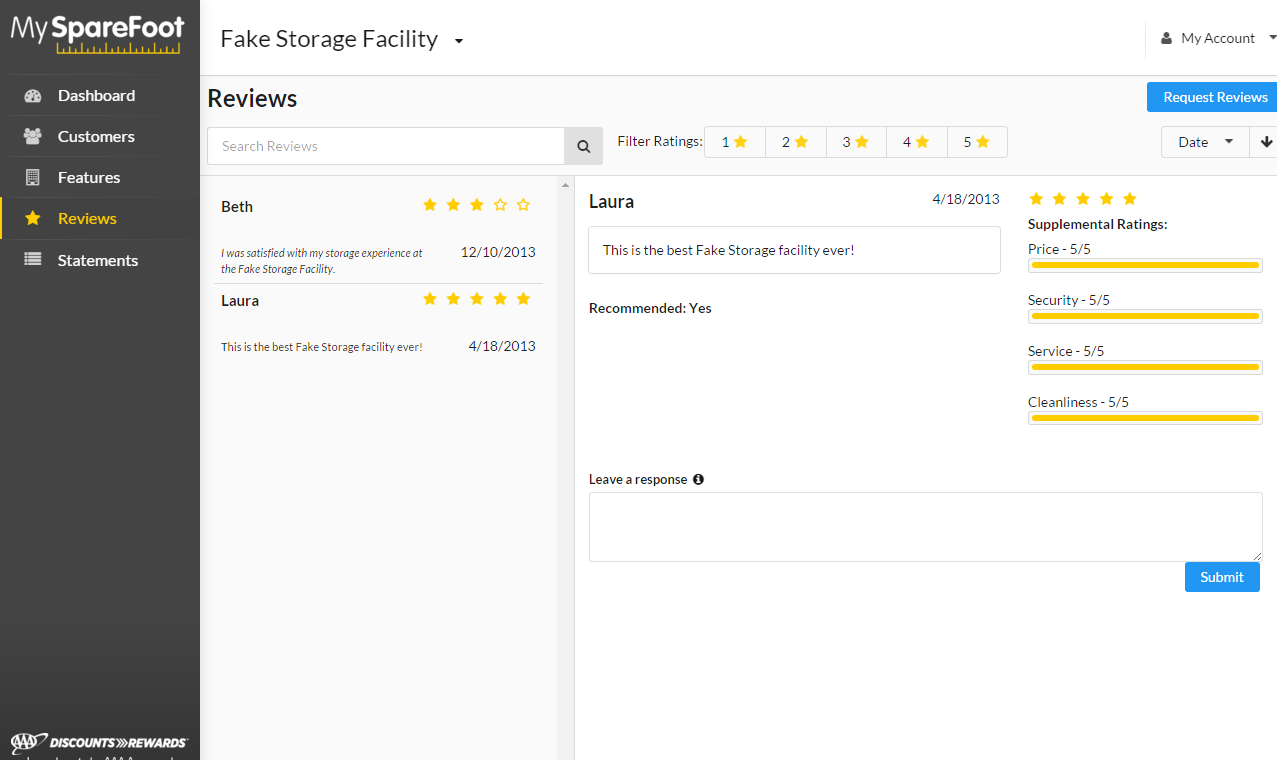 PHASE 5: Keep the conversation open
SpareFoot allows you to reply publicly to any review of your facility. We encourage you to use this tool for both positive and negative reviews you receive; this gives you a chance to interact with your current reviewers and show off your incredible customer service to prospective tenants!
SpareFoot's transparent review process makes it easy to build your online presence with truthful reviews from your self-storage customers.
So, are you ready to get reviewed? Use our Review Request Tool to contact your happy customers and start accumulating reviews today!