The Details section of your MySpareFoot account provides basic (but important) information that SpareFoot and your storage-seeking customers need to know about your facility. 
Need help logging into your MySpareFoot account? Check out this article for more information. 
First, navigate to the "Features" area of MySpareFoot.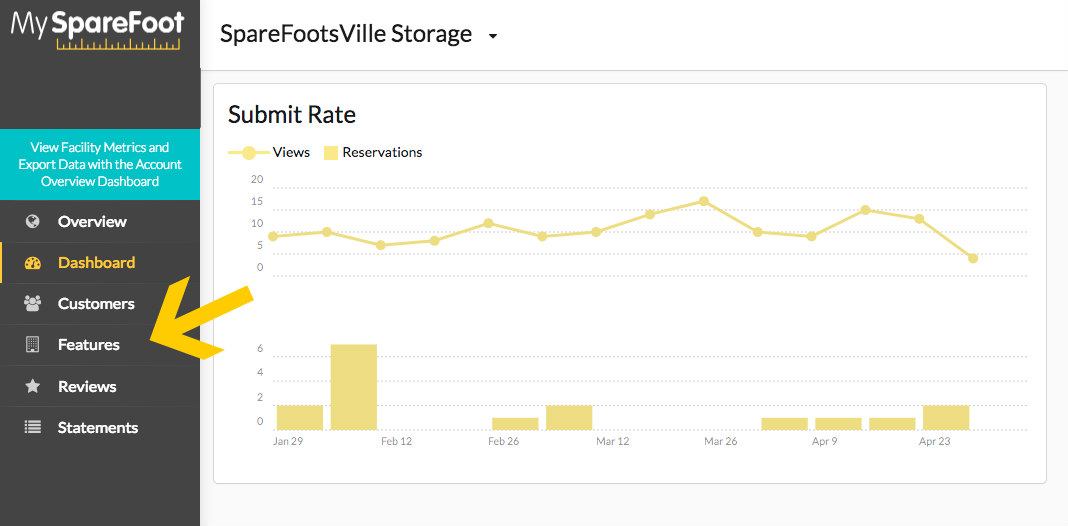 Here's a summary of each of the required details in the tab:
Reservation Window
Set the number of days you will hold a unit for a SpareFoot customer. Click here to learn more about setting custom Reservation Windows.
Facility Name
For branding consistency, we recommend using the same facility name that appears on your main sign. Since we know some facilities have the same name, we also recommend adding your facility street address to help customers differentiate your location. Ex: SpareFoot Self Storage - Austin - 123 Main St.
Company Code
Do you use an internal code to differentiate between multiple facilities in your portfolio? If so, enter it here. We'll reference this code in your statements and billing documentation to help with accounting. This code will not be visible to shoppers on our site. 
Facility Address, City, State & Zip
Enter your facility's physical street address. This address will be provided to new customers that reserve at your facility, so it's important that it's accurate.
Is there an on-site office at the above address?
Select yes if you have an office on-site where tenants can meet with a facility staff member to move-in or check-in about their account. Otherwise, select no.
Phone Number
Enter your facility's direct phone number. Remember, this phone number will not be visible on your facility's SpareFoot.com listing; it will be provided to customers after they've made a reservation at your facility. That's why it's best to use your facility's direct number (the one provided to current tenants), instead of a number for an external sales or roll-over call center. 
Cell Phone Number
In addition to our automated phone calls, SpareFoot's Tenant Connect feature can also text your reservations to your cell phone! If you'd like to receive Tenant Connect texts, enter your cell phone number into the field; if not, simply leave the field blank. This number is exclusively used for Tenant Connect texts; unless your cell phone number is also your facility's direct number, this information is never shared with customers.
Admin Fee
Many facilities charge a one-time, non-refundable administrative fee at move-in. Enter the amount that you charge customers on their initial move-in, excluding rent fees, insurance/protection plan fees and deposits. 
Facility URL
Do you have a website? If so, enter the web address here. Though we won't display a link to your own website on our network, our agents may reference it to research any details requested by customers considering your facility. 
SpareFoot will occasionally send things to you in the mail. Can you receive mail at the above address?
Select Yes or No, depending on whether the street address of your facility is the address where you receive mail. If you select No, a new field will appear for you to input your mailing address. This information is for SpareFoot's internal use, and is not shared with customers on our site.
Facility Description
Enter a brief description of your facility, highlighting important details like location and special features or amenities. It's best to write an original and unique description for your SpareFoot listing; duplicating content from your own website can be detrimental to your ranking on search engines like Google and Bing.
All set? 
Once you've finished filling out your facility details, click Save. This information will update to your SpareFoot listing within 15 minutes.