This article is for users who haven't integrated their SpareFoot account with web-based storage management software (like SiteLink Web Edition, Centershift, etc.). Integrated inventory updates automatically from your software. Learn more here.
Read on to learn how SpareFoot makes it easy to add special offers to your units and maximize your SpareFoot rentals. Check out this article for some tips and best practices associated with advertising special offers on SpareFoot.
Need help logging into MySpareFoot? Check out this article for more information.
First, navigate to the "Features" area of MySpareFoot.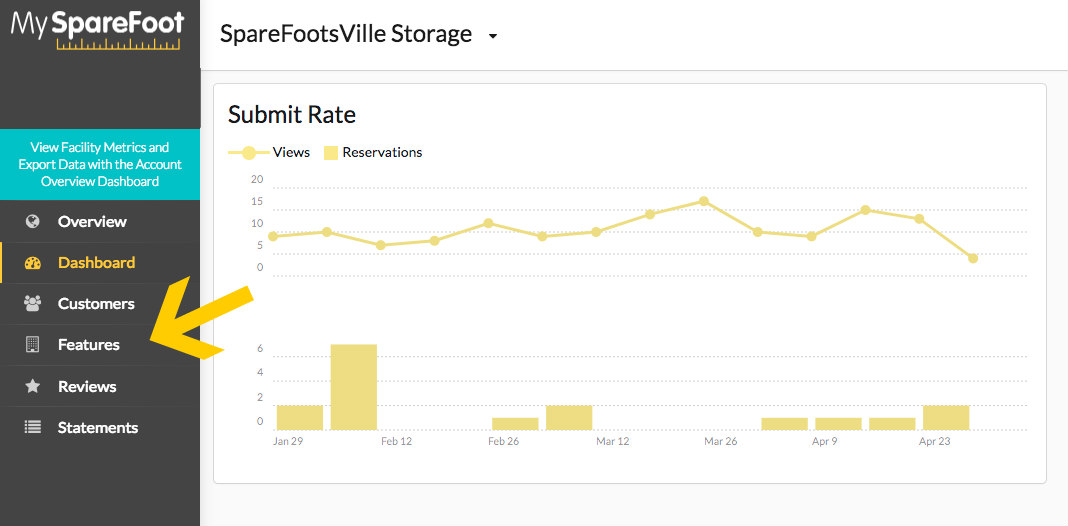 You'll see all of your units right below your facility information.
Promos, discounts & free items
What's the difference between promos, discounts and free items? Great question! Here's a quick summary:
Discounts: A discount is a dollar amount or percentage off a unit's monthly rent that is honored on an ongoing basis. For example, you might offer customers 10 percent off the regular rental rate for the length of their tenancy. Keep in mind that SpareFoot requires that all discounts be honored until a regularly scheduled rent increase (typically six months or longer).
Promos: Unlike discounts, promos are temporary special offers that end after a certain length of time. Examples include the first month free or 50% off the first two months. It's possible to offer a dollar amount or percentage off as a promo, but you'll just have to specify time limitations.
Free Items: Free items are just what they sound like- freebies! Common examples include a free lock with rental, a waived admin fee when customers reserve online, or any gifts you might offer to new renters.
Ultimately, offering a discount, promo, or free item is up to you - but each of these special offers will make your facility listing more attractive to prospective customers and help you stand out from the competition!
Select the drop-down for the detail you'd like to edit.

DISCOUNTS
Keep in mind: Discounts are special rates that are honored on an ongoing basis, so SpareFoot requires that all discounts be honored for our customers until a regularly scheduled rent increase (typically six months or longer). If you'd like to offer a more temporary special on any of your units, you may want to consider a promo instead!
The discount builder allows you to offer either a percentage or dollar amount off each unit's monthly rent, and includes several ready-to-select percentages and dollar amounts for your convenience. If you would like to apply one of these pre-populated percentages or dollar amounts, simply click the applicable option and the discount will apply.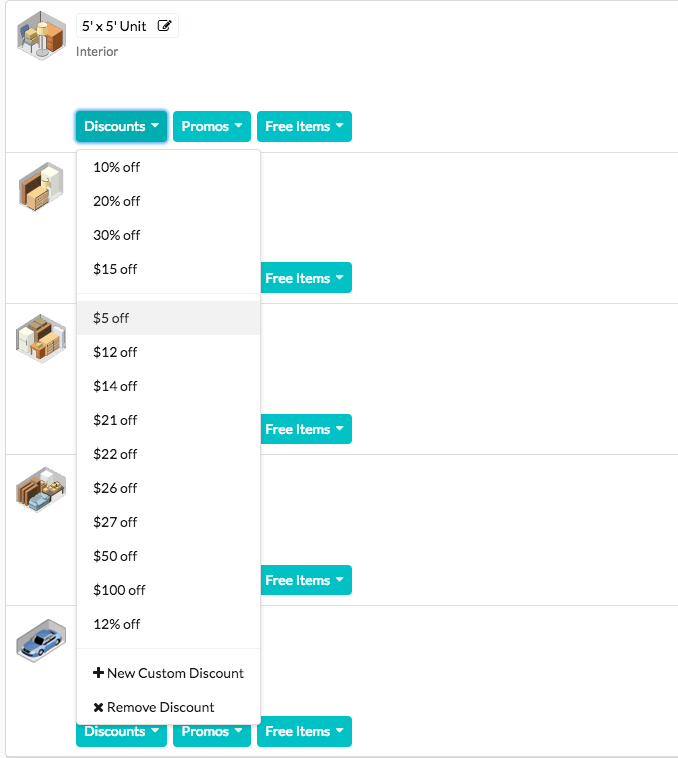 You can also click "New Custom Discount" to create your own. Select whether you'd like to offer a percentage or dollar amount discount and enter the applicable amount. When you're finished creating your new discount, click the blue "Save" button.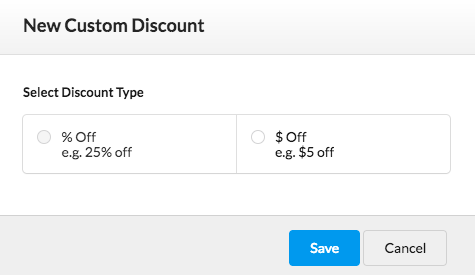 Once you've entered the necessary information, click Save to apply the discount. To ensure customers know exactly how deep a discount they're getting, the unit's original rental rate will be slashed through, and the discounted rate and discounted percentage/dollar amount off will appear immediately underneath:

*Please note that SpareFoot.com will display the standard rate slashed through with the discounted rate underneath. However, some of our partner sites, such as SelfStorage.com will only show the final discounted rate.
PROMOS
A promo is any special offer that isn't a permanent discount, so our builder offers lots of customizable options for maximum flexibility! The promo builder includes several popular promos for easy selection. You can also select New Custom Promo to build your own:
Building Custom Promotions
If you select "New Custom Promo," a pop-up window will appear to help you build it.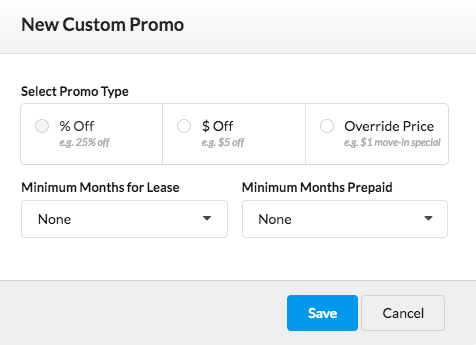 Let's say you'd like to add a promotion offering customers 50% off their second full month. You'd begin by selecting the % Off button at the top of the window, and then selecting the 2nd Month checkbox from the Months section.
It's easy to add additional restrictions or terms to your promotions. For example, let's say you only wish to offer this 50% off the second full month to customers who have signed a six-month lease agreement. To add this stipulation, simply scroll down to the Requires Minimum Lease Length field, and select "6 months" from the drop-down menu:
Once the promotion looks correct to you, click Save to publish it to your listing!
Remember, your SpareFoot customers will not speak with you directly until after their reservation is made, so it's important that your promotion appears exactly as you plan to offer it to customers. If any additional terms or restrictions apply, make sure you use the promo builder to add them.
FREE ITEMS
Unlike discounts and promotions, the promo builder does not allow you to create custom free item offers. However, the builder includes a ready-made list of popular offers that can be easily selected from the drop-down menu:
Free lock when you reserve online
Waived admin fee when you reserve online
Waived insurance fee when you reserve online
Free use of movers when you reserve online
Don't see the free item you're looking for? The option may exist elsewhere in your MySpareFoot account. For example, if you offer use of a free truck with a customer's rental, you can select this option in the Amenities section of your MySpareFoot account.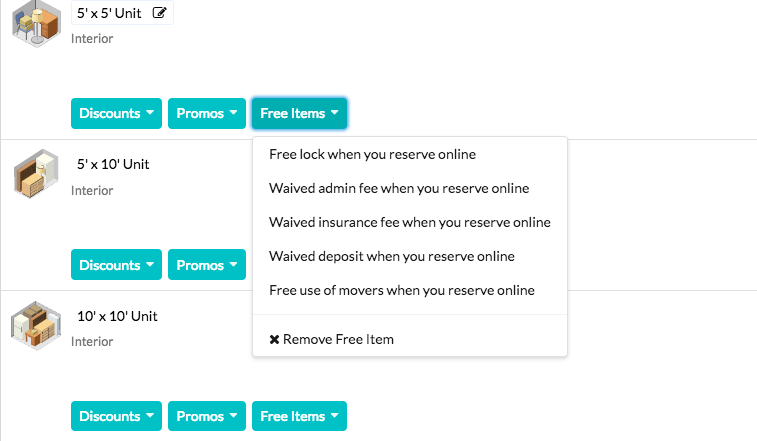 Ready to change it up?
You can easily remove existing specials by selecting the appropriate unit, clicking on the offer type at the top of the Units tab, and selecting the Remove button. That said, promos are a super effective marketing strategy, and we recommend that you use them! If you'd like to discuss promotion strategies, contact us! We're more than happy to help.