MySpareFoot is your dedicated client portal where you can manage all aspects of your SpareFoot account!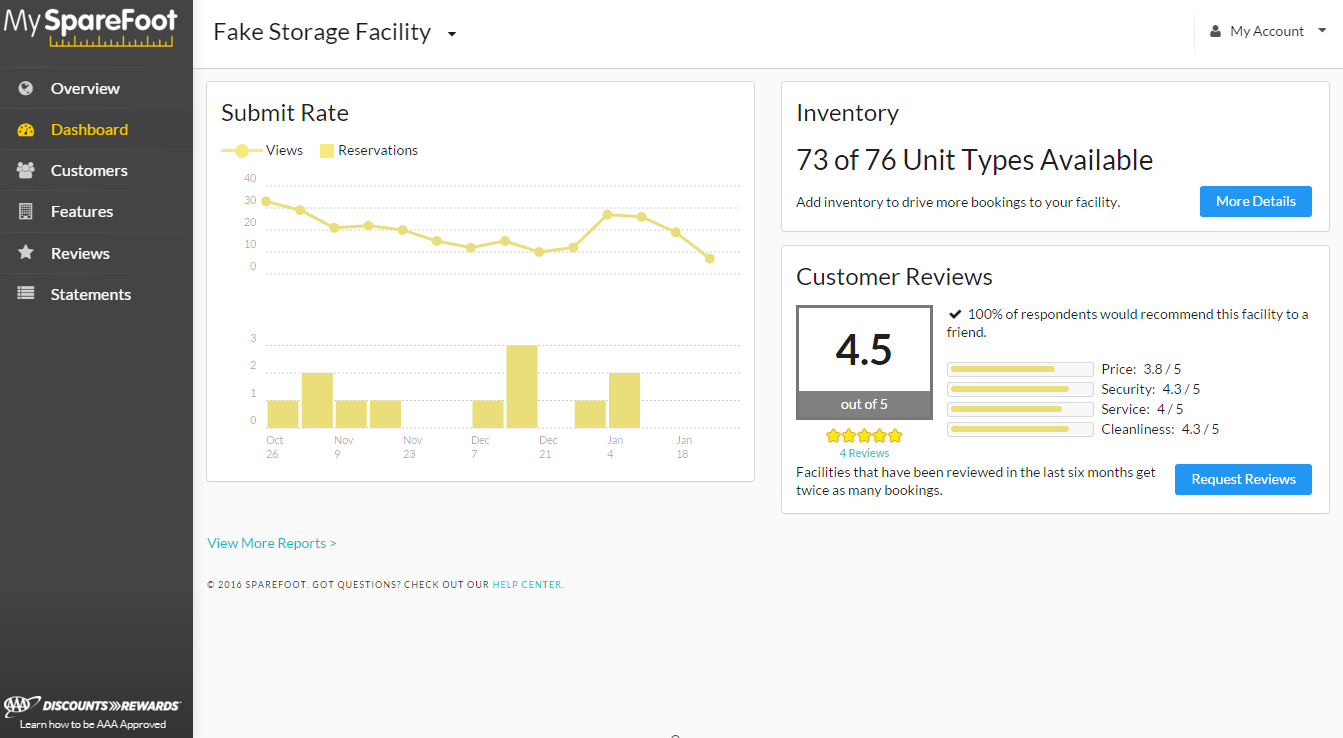 MySpareFoot makes it super simple for you to manage your facility's presence on our site by giving you complete and direct control over your facility listing. Simply log in to make almost any change or update to your facility listing at any time. Your MySpareFoot portal is also where you will reconcile your monthly statement, manage your payment and billing information, and add additional MySpareFoot users to help manage your account.
What can I do in MySpareFoot?
Edit and update your facility details and amenities
Customers want to know what makes your facility special, and MySpareFoot makes it easy to show them! MySpareFoot's Details and Amenities tabs will help you fill your facility listing with the information customers care about most.
Create and manage your facility's unit inventory
At SpareFoot, we know that self-storage units come in many ways, shapes and sizes. The Units tab of your MySpareFoot portal makes it easy to build a detailed unit inventory that will give customers all the information they need to make the best storage decision.
SpareFoot strives to make it as easy as possible to connect and engage with the customers that find you through our service. The
Customers tab
of your MySpareFoot portal helps you stay organized and up-to-speed by providing a list of your current, past and upcoming customer reservations.
Each month, you'll be reminded to head to the
Statements tab
of your MySpareFoot portal to make any needed changes to your statement so that we can charge you correctly.
Special offers are a super-effective way to nab consumer interest and stand out from the competition. SpareFoot's promotions and discounts interface lets you design clear and specific specials that will wow your customers and get you tons of tenants!
Show off the features of your facility that you and your tenants are most excited about! The Photos tab of MySpareFoot lets you upload high-quality images that will appeal to SpareFoot's comparison-shoppers.
Reviews are one of the best and most important ways to build your online reputation, so the
Reviews tab
of your MySpareFoot portal makes it easy to engage with your customers by requesting and replying to reviews of your business.
You decide who can access your account! SpareFoot's platform is super-flexible and allows you to configure whatever user setup works best for you. In the Users tab of MySpareFoot, you can add and remove users, adjust users' access levels, and assign email contacts.
SpareFoot provides multiple payment options for a smooth and seamless billing experience. In the
Payments tab
of your MySpareFoot portal, you can easily add new payment methods, update your existing payment method, and designate billing contacts for your account.
Stay on top of your facility's SpareFoot performance and your employees' engagement with SpareFoot's platform using MySpareFoot
Reports
!
How do I access MySpareFoot?