There are a variety of places on SpareFoot's customer-facing site where you'll find phone numbers. For example:
Search pages: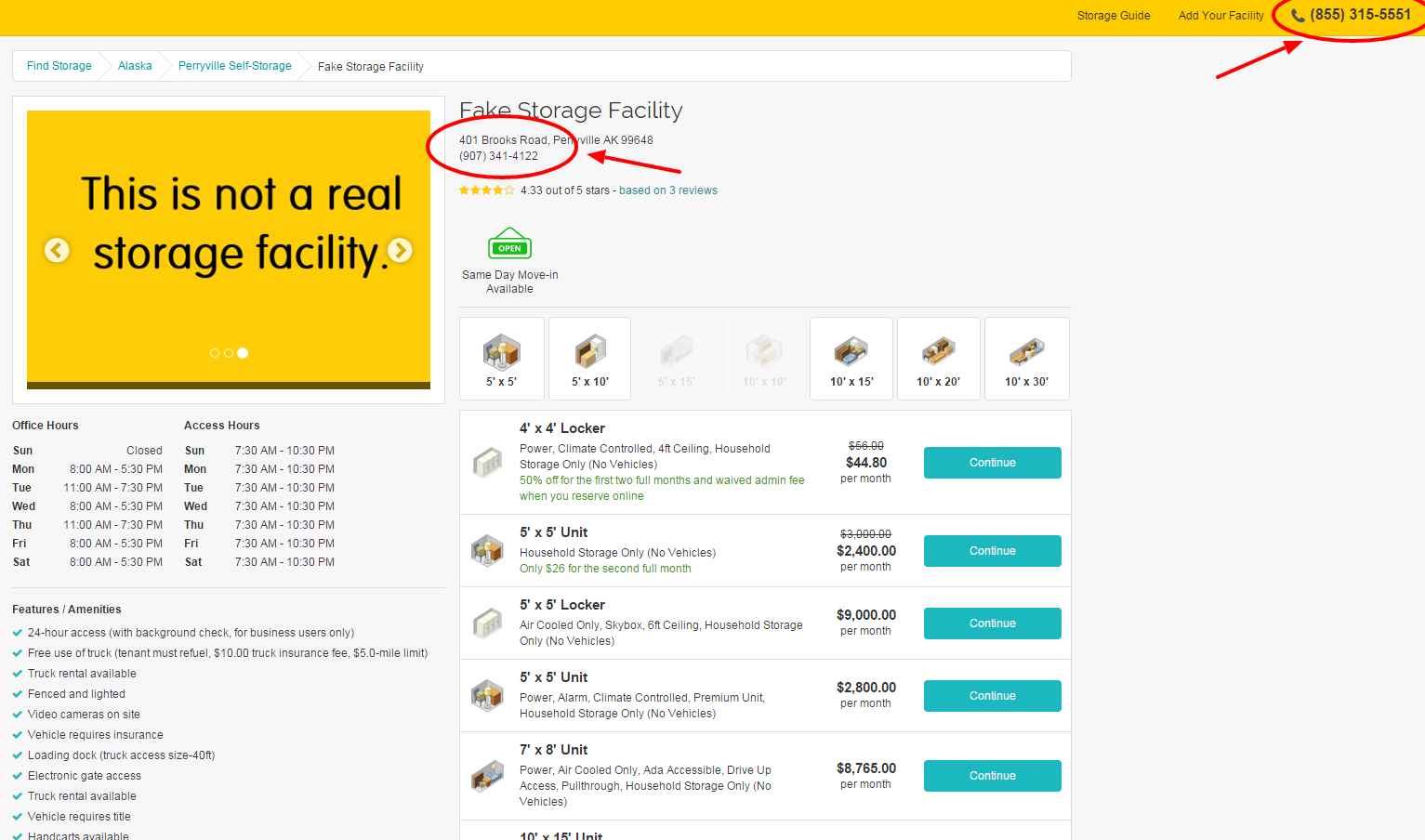 All of these numbers ring to SpareFoot's call center
Who is SpareFoot's call center?
Our customer experience agents answer the calls which ring to all of the phone numbers listed on SpareFoot and its partner sites. Our agents are trained experts in customer service and selecting the best unit for these storage-seeking customers. While most SpareFoot customers prefer to book their unit online, a some choose to give us a ring. You can trust that our team will take good care of these customers and give them a great introduction to you and your facility.
Why don't these numbers ring to my facility?
SpareFoot's pay-for-performance business model means that SpareFoot only receives compensated for the reservations that we generate. If shoppers bypass SpareFoot by calling you directly, we'd lose the tracking and attribution we need to support our business model.
Why are these numbers sometimes local numbers instead of toll-free?
In most areas (like the second screenshot above), we've purchased a handful of local phone numbers with an area code that matches that of your area. Like all numbers on our site, these ring to our call center.
It's simple - customers are more likely to call a local number than a toll-free number because they want to talk to a real human. We give them both! Calls to our phone numbers feature minimal menu options ("Press 1 for new customers, press 2 for support," etc.) and short - if any - hold times.
How does your call center answer the phone?
We do not answer the phone with a greeting that implies to the customer that they are calling you directly. So, if a customer called the local number listed, our team would not answer the phone claiming to be the storage facility. Although we're always testing and tweaking our exact greeting, it's likely to be something along the lines of, "Thank you for calling, this is David. How can I help you with storage today?" or "Thanks for calling the self-storage reservation center. This is Andrea, how can I help you?"
Remember: The information on your SpareFoot listing must be clear!
Customers do not have any way to contact you directly before reserving a unit, so it's imperative that you keep your facility information (including units, promotions, details, amenities and hours) completely clear and up to date.
Facilities that include vague or ambiguous language in their SpareFoot listing, like "Call for details" or "Manager special!" get considerably less traction from their SpareFoot listing. That's because:
As we mentioned, most customers who find your facility on SpareFoot are online-oriented shoppers who want to make a quick, well-informed decision online, or even on their smart phone. These customers typically aren't the type to pick up the phone and call. They simply pass over facilities with unclear information.
The customers who do choose to call for clarification reach SpareFoot, not your facility. Although our customer experience agents will do everything they can to help the customer, remember they will have the same unclear information at their disposal.
We provide your phone number to customers who make reservations
After a customer makes a reservation, we send them a confirmation email letting them know that their unit is confirmed. We also provide them with your phone number if they want to follow up with you directly.