We understand that in some cases there just can't always be a manager regularly available on-site, which is why we created an "Appointment Only" option for your facility hours. Setting your office hours by appointment lets potential renters know your unique move-in requirements while still allowing them to place a reservation for their anticipated move-in date.
To add "Appointment Only" office hours to your facility listing, sign in to your MySpareFoot account, click "Features" in the left-hand navigation panel, then navigate to the Hours section.
What hours do I set for my facility?
We advise facilities to list office hours in MySpareFoot for any time they would be willing to meet a customer for an appointment. So if you are normally open Monday through Friday, but would be willing to meet customers by appointment on Saturday and Sunday, just fill out the hours during which you'd be willing to meet, then check-off the "Appointment Only" box.
If your facility is only available by appointment, be sure to check off the "Appointment Only" box next to each day you'd be willing to meet customers.

Avoiding confused customers
Although your office hours will show "By Appointment Only" on your facility listing, we still recommend you call your new SpareFoot customers as soon as possible.
Giving your customers a call right after you get notified that they've reserved a unit will give you the opportunity to set up a good time to meet them at the facility to complete their move-in.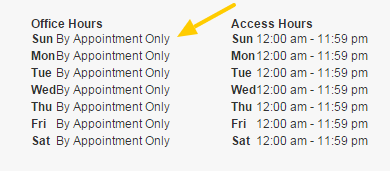 TIP: SpareFoot's free Tenant Connect service makes follow-ups a breeze. We can call or text you when you get a new reservation! Learn more about Tenant Connect.