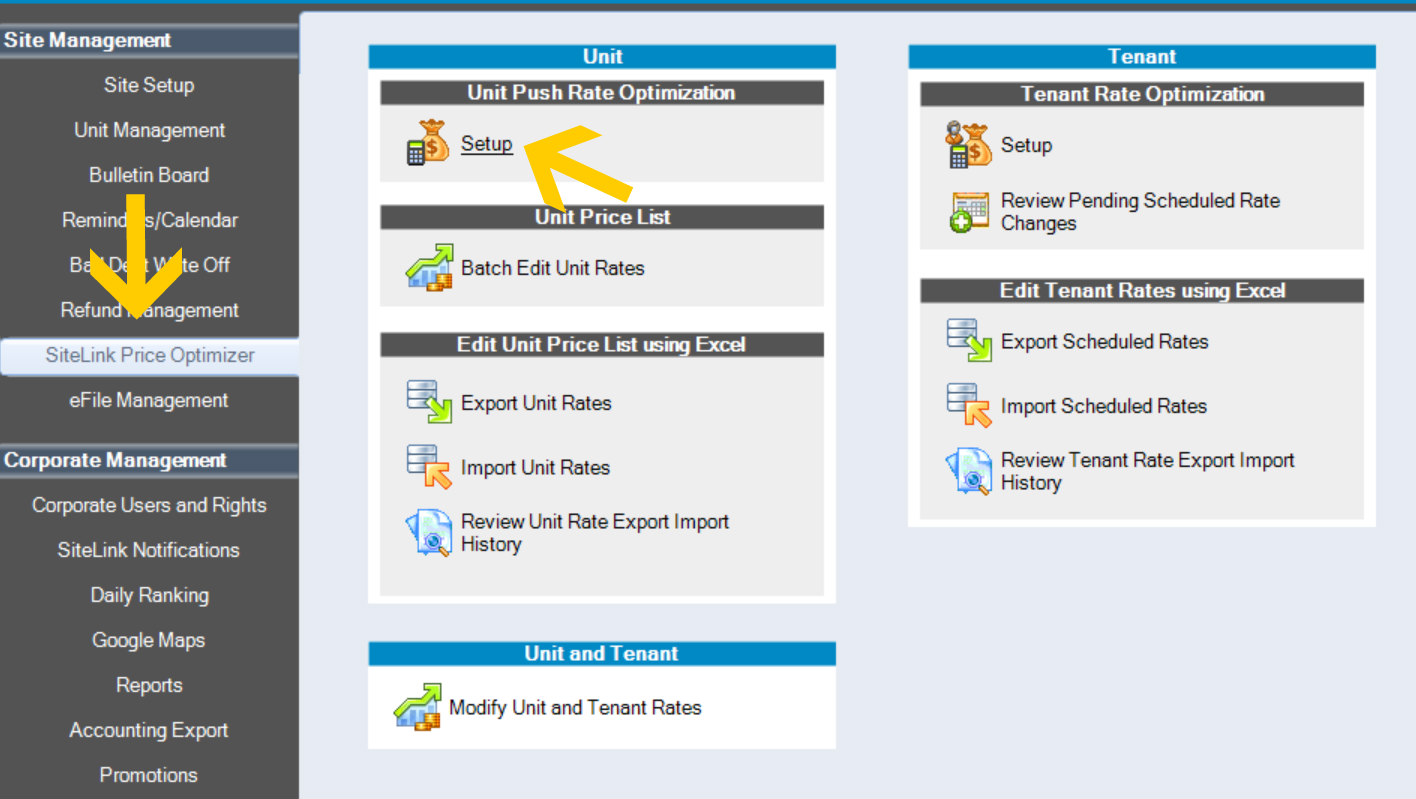 These tools are awesome! They allow you to use revenue management tools that work for your business and in your market to create business rules for changing rates so current and new tenants always pay the right amount.
Here's the gist of how they work:
You set a street rate for each unit in SiteLink. Then, choose a revenue management plan in SiteLink (you can choose a preconfigured plan or make your own), which will automatically assign a push rate for the unit. This is the price SiteLink advises as ideal to push the unit and get it rented ASAP. Let's say:
You have lots of vacancy in your 10X10 units, and you haven't leased one in a while. If the street rate of this unit is set at $200, SiteLink might lower that price (within guidelines you've set) to perhaps a push rate of $180.

You have very limited vacancy in your 5X5 units and you leased one yesterday. If the street rate of this unit is set at $60, SiteLink might raise that price to $75.
Please note:
If you have multiple facilities on your SiteLink account, you can chose to use the Price Optimizer for each of your facilities individually. SpareFoot will display that information as you have entered it in SiteLink.

SpareFoot syncs data with SiteLink each hour. Be sure to wait an hour after making a rate change to see the updates on SpareFoot!
How can I show push rates on my SpareFoot listing?
If you would like your push rates to be displayed on the SpareFoot network, you'll need to check your settings in SiteLink's Corporate Control Center.
From the home page of your Corporate Control center, first navigate to "Rules for Websites, Kiosk and Call Center".
Then for each facility, check the box labeled "Use the push rate at move in when available". This will let SpareFoot know to use your Price Optimizer tools to inform which rates are displayed on your facility listing and allow you to take advantage of strike through pricing.

If your street rate is higher than your push rate for a unit, both rates will be shown with a strikethrough on the street rate.
If your push rate is higher than the street rate for a unit, only the push rate will be shown.
According to surveys of SpareFoot shoppers, the two most important features SpareFoot can provide them are price transparency and helping them find deals. This means shoppers who feel like they are getting a deal are more likely to reserve at your facility! In the example below, the client's street rate for this unit is $48 and the push rate is $46.

If you need any help setting up your Price Optimizer in SiteLink, please contact the SiteLink support team at support@sitelink.com or 919-865-0789 option 2.