One of the most important parts of creating your SpareFoot listing is adding your units. This is how you let customers know what units are available at your facility, what amenities and features each unit has, and of course, what your unit prices are. All of these details are of the utmost importance to customers, so it's important that you not only create an accurate representation of your inventory but that it's also kept up to date.
Need help logging into your MySpareFoot account? Check out this article for more information. 
First, navigate to the "Features" area of MySpareFoot.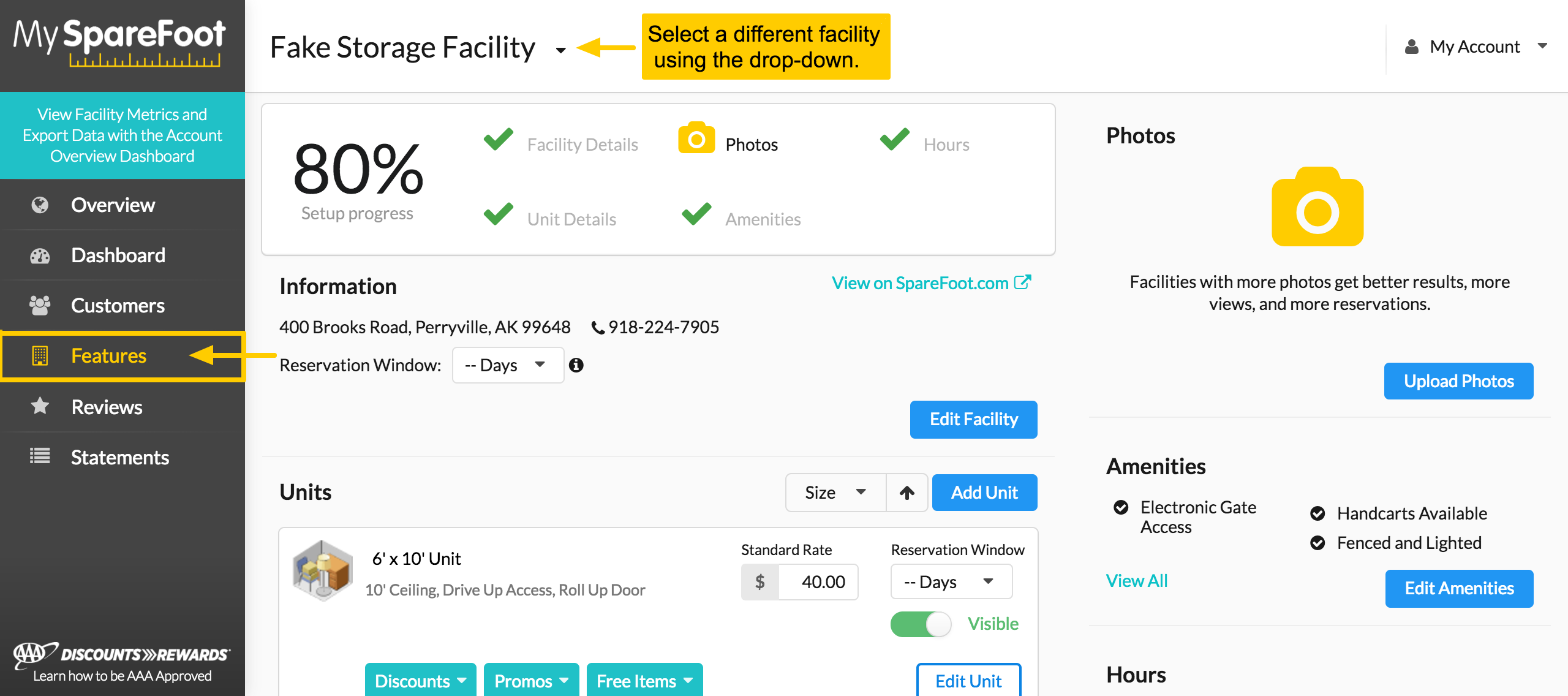 You'll see your current inventory underneath your facility information.
One unit in MySpareFoot = many actual units
One unit in your MySpareFoot account represents one group of identical units at your facility. For example, let's say you have one hundred 5' x 10' climate-controlled units at your facility, 50 of which are located on the first floor, and 50 of which are located on the second floor. To represent these two groups of units, you'd add two 5' x 10' climate-controlled units in your MySpareFoot account - one located on the first floor, and one located on the second.
Adding multiple unit groups that are the same size but have differences in amenities or location will give customers more options which will in turn help increase your reservation rate! These additional unit details will help customers understand why units of the same size may be priced differently and help them make an informed decision based on their needs.
These unit types will be displayed to customers in your SpareFoot listing as available to rent until you make them unavailable using the "Visible" toggle button. in your account. Add as many units to your SpareFoot inventory as you have unit groups at your facility.
Adding units in your MySpareFoot account
When you're ready to begin adding units, select the "Add Unit" button in the upper right-hand corner. A new screen will appear where you can specify the unit's price, dimensions and amenities.
NOTE: Since SpareFoot's fee is based on your standard unit rate, please do not include taxes or any other fees in your unit's price.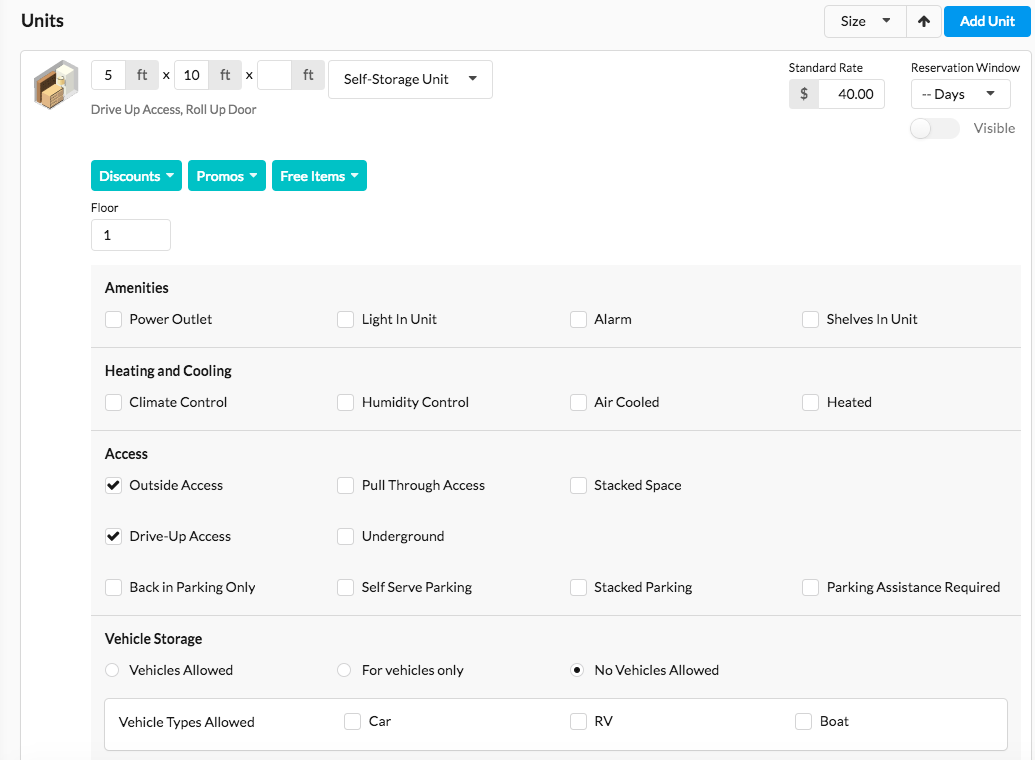 Once you've finished filling out the unit details, click the blue Save at the bottom of the screen to add the unit to your inventory and begin marketing it to your SpareFoot customers! 
Here's a guide for each of the fields you'll need to complete to add a new unit to your listing:
Space Type
Choose the type that best describes the space you're marketing. Here's a summary of each of the available types to help you make the best selection:
Self-Storage Unit: Traditional self-storage space with a ceiling height of eight feet or more.
Parking Space: A space that accommodates only vehicle storage; may be indoor or outdoor, covered or uncovered. 
Office Space/Warehouse: A space where lessees may conduct business. These units typically have power outlets, climate control and other amenities that make it habitable for work purposes. 
Wine Storage: A space specifically designed and optimized for wine storage. These spaces are usually highly climate-regulated to ensure proper storage of various wines.
Locker: A self-storage unit with a ceiling height of eight feet or lower; typically four feet. These spaces may be stacked on top of one or more other lockers. 
Remember, your customers often have very specific storage needs, so it's best to be super clear about the kind of unit you're marketing. A customer needing to store a collection of ladders would be unhappy to find that the self-storage unit they rented is actually a locker! 
Tip: Not all amenities on the +Add Unit page are applicable to all space types. Depending on which type you select, some of the following fields may be greyed out and unavailable for selection. 
Dimensions
Enter the width, length and height of the unit into the corresponding fields.
Standard Rate
Enter the standard monthly price of the unit, excluding taxes, insurance and any other fees. You'll also want to exclude any discounts or special prices for the time being. Once you've finished adding your unit, you can use our promo builder to craft a super effective unit special that shows customers exactly how deep a discount they're getting!
Floor #
Using only digits, enter the unit's floor number into the field.
Amenities
This field lists the most commonly available unit amenities. Select as many as apply to the unit you're adding.
Heating & Cooling
Does the unit you're marketing offer any type of climate control? If so, select the most applicable option or as many as apply. Here's a summary of each of the available types to help you make the best selection:
Climate Control: Maintains climate year-round; ensures the temperature never dips below or rises above set thresholds. 
Humidity Control: Controls the humidity in and around the unit, but does not affect the temperature. May be supplemental to Climate Control.
Air Cooled: Cools the space to ensure the temperature does not reach extreme highs; does not provide climate protection against extreme lows.
Heated: Heats the space to ensure the temperature does not reach extreme lows; does not provide climate protection against extremely highs.
Climate protection is one of the most important amenities in a customer's storage selection, so it's important to be specific!
Access
Self-storage units come in a wide variety of access configurations, so this field includes lots of options to ensure prospective customers know exactly what they're getting! 
Stacked Space: A unit that is "stacked" beneath or above another unit; this option typically refers to lockers and other non-traditional unit sizes.
Underground Level: A space that is located in a basement or below ground. Select this option for all units located below the ground floor of your facility.
Parking Warehouse: A space located in a large garage or warehouse specifically intended for parking.
Pull-Thru: A unit or space that is accessible from both sides. This includes units with two doors, and parking spaces that customers can actually "pull through" on either end.
Can you drive up to the space?
Indicate whether the customer can actually drive their vehicle up to the space.
How do tenants get to this unit?
Is the unit accessible from an indoor hallway, or can customers access the unit from the outside
 Vehicle Storage
Can customers store a vehicle in the space?

Select the applicable option.

What vehicles types are allowed?

Select the applicable options.

Are customers able to park and access their vehicles without assistance?

Select if the spaces are self serve parking, parking assistance required, or stacked parking, or back in parking only.
Vehicle Storage Accommodations
Outdoor uncovered

- An outdoor vehicle parking space that may be on a paved or unpaved surface.

Outdoor covered

- An outdoor vehicle parking space typically under a standalone roof.

Indoor

- Vehicle parking inside a large structure such as a warehouse where cars will be parked alongside one another in a shared space.
Door Type
Some customers may have specific needs that require either a roll-up or swing door. Use this field to specify which of these door types best describes your unit's configuration. If the space does not have a door, select None
Lot Type
Is your parking lot made of dirt, sand, mulch, gravel, grass, or a paved surface?
Other Options
Is the unit ADA accessible? Select this option if the units are accessible for disabled tenants.
Is the unit in a "premium location"? Use this option to differentiate units that are the same size but are priced differently because of their location. For example, units that are next to the facility's main office or a freight elevator.
How your units are listed on SpareFoot.com
Once saved, the units you've added will be displayed on your SpareFoot listing and available for customers to reserve. To see the customer view of your facility's inventory, simply click the View on SpareFoot.com button in the top right-hand corner of the screen:

From there, you'll be taken to your SpareFoot listing. To view your unit inventory, look the unit groups listed on right-hand side of the screen below the facility name and address. Please keep in mind that any changes made in your MySpareFoot account typically take about 15 minutes to reflect on the front end.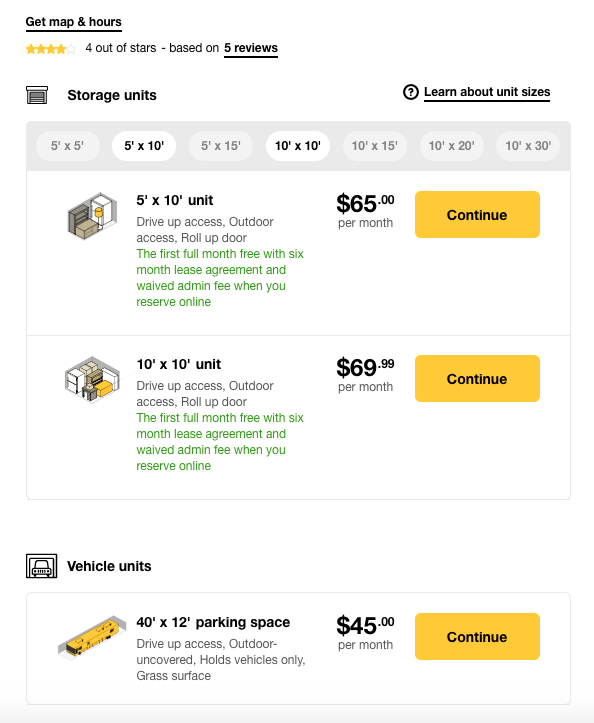 You'll notice that there are two groups of units: Storage Units and Vehicle Units. If you have storage units which are available for both vehicle storage and household items, you'll see those units in both groups!