Not to worry - we'll remind you!
The reconciliation period follows the same schedule each month: The statement opens on the first and closes on the tenth of each month.
SpareFoot sends four emails each month to remind you about reconciliation:
As soon as the statement opens, we'll send an email with the subject "Action Needed: Review [MONTH] Charges"
Provided you haven't already made changes to your open statement, we'll shoot you two additional reminder emails on the third and the sixth with the subject "Action Needed: Pending Charges Require Immediate Review"
Provided your statement has not yet been reconciled, we'll send a final reminder on the last day of the statement period with the subject "URGENT: Last Day To Review Your Pending Charges"
If you've finished reconciling for the month and no longer need to be reminded, you can opt out of receiving reminders by clicking the "I already reviewed my statement" link in the reminder email. You won't receive any additional reminders until next month.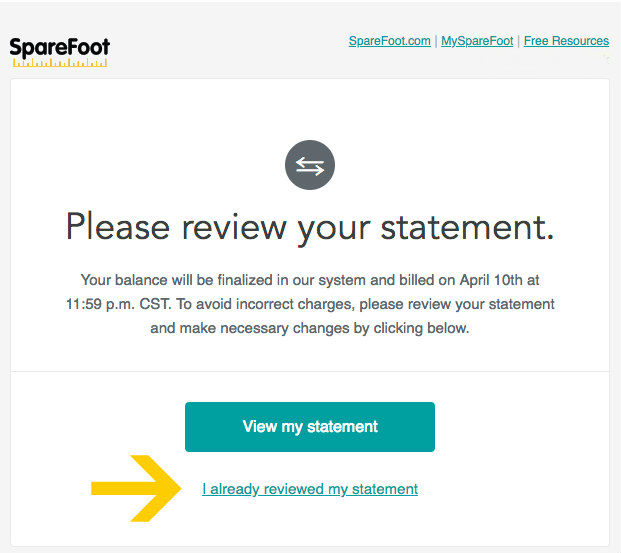 No open statement in MySpareFoot? Didn't get an email from us?
Remember, statements are only available from the first through the tenth day of each month so be sure to reconcile your statement during this ten-day window.
If it is reconciliation time and you don't have a statement in your MySpareFoot account, you may not have any SpareFoot tenants from the previous month. To double check, follow the instructions for your pricing model below:
If you pay one flat fee per tenant move-in, regardless of the tenant's length of stay, you are on our OneTime Pricing Model: Take a look at the Customers Tab in your MySpareFoot account. It should show 0 reservations scheduled to move-in last month.
If you pay a monthly percentage of the rent collected from each confirmed move-in throughout the tenant's length of stay, you are on our RentPercent Pricing Model: Take a look at the Statement Archive. It should show 0 tenants last month.
If you think you should have a statement, but there's nothing listed in MySpareFoot, please send a ticket to our support team. We'll get everything sorted out!