If you're a SpareFoot client and you're using SiteLink Web Edition to manage your facility, you may have previously opted to create your facility listing "manually." This means that you opted to manage your units and prices in MySpareFoot instead of by using the free SiteLink Web Edition integration. This also means that you've already added hours, photos and amenities in MySpareFoot to the non-integrated facility.
If you're ready to integrate your SpareFoot account with your Sitelink software and save time by automating updates to your listing, just submit a ticket to our support team. We can do a super quick copy of the information you've already entered in your MySpareFoot account so that you don't need to re-enter it.
Configure SpareFoot integration in SiteLink
Open SiteLink Corporate Control Center
The logo for this program either a globe or two interlocking C's (depending on when you've last updated)
NOTE: This is NOT the same program as SiteLink Web Edition! It's a second program that comes along with your SiteLink account that's used for managing your account holistically. If you need to install the Corporate Control Center, please reach out to SiteLink support and they can help you in a jiffy!
Log in to the Corporate Control Center
Be sure to log in to your account with your Corp Code. Some people haven't logged in to the Corporate Control Center recently and the Corp Code will be set to DEMO. This won't work, as you need to log in to your account to create an integration.
Add Permissions
1. Select "Corporate Users and Rights," then "Users"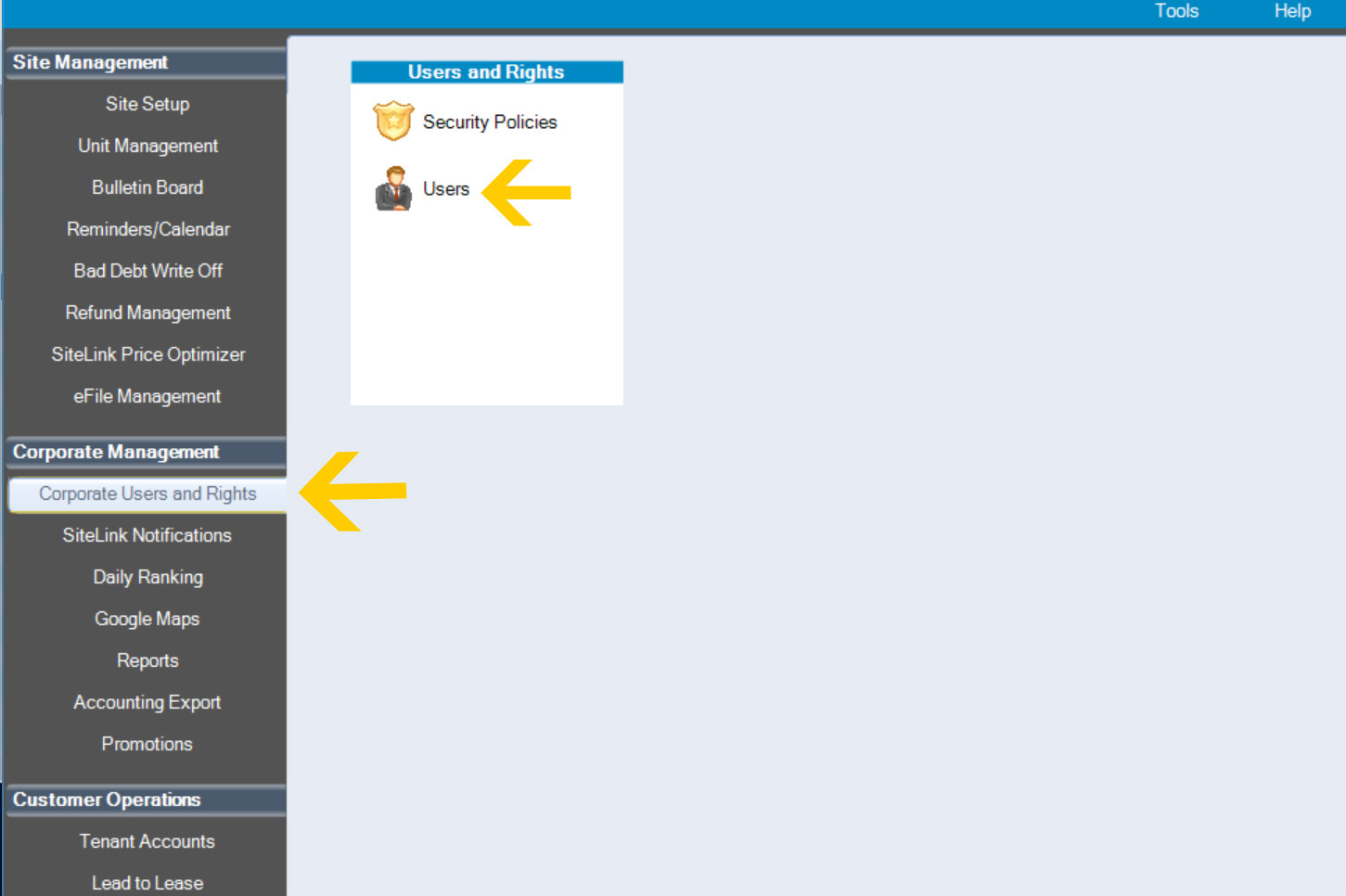 2. Select "Add" (on the right side of the screen), which will open the "users edit" area
3. Select "All Sites" under "Permitted Sites"
4. Under "Permitted Rights", select:
API Aggregator
API All Reports
API Insurance Reports
API Regular
5. Enter "sparefoot" as the username and choose a password. Note: Please do not use "Storable" as the username.
Please write your password down as you will need to tell us what it is after completing this process.
If you can set password and log on policies, set "Password never expires" and the Log-On Allowed Days and Times to the maximum
TIP: If the option for "password never expires" is grayed out (and can't be selected), don't fret! That means you have high security standards. Simply select "password must be changed every 3 months." When you press "OK" to save your settings you should get a popup box.
Just select "Yes" and you're good to go!
Reach out to SpareFoot support
Once you've completed the steps above, send us an email at support@sparefoot.com to let us know that you're ready to complete the integration. A member of our team will reach back out shortly.