Your SpareFoot listing is designed to showcase the features and amenities that storage-seeking shoppers care about most. A complete and up-to-date listing is the best way to get lots of reservations on SpareFoot's network.
So, take a few minutes to fill out your facility's amenities in your MySpareFoot portal - it just might make the difference between a customer booking with you vs. your nearest competitor! 
First, navigate to the Features page in your MySpareFoot account.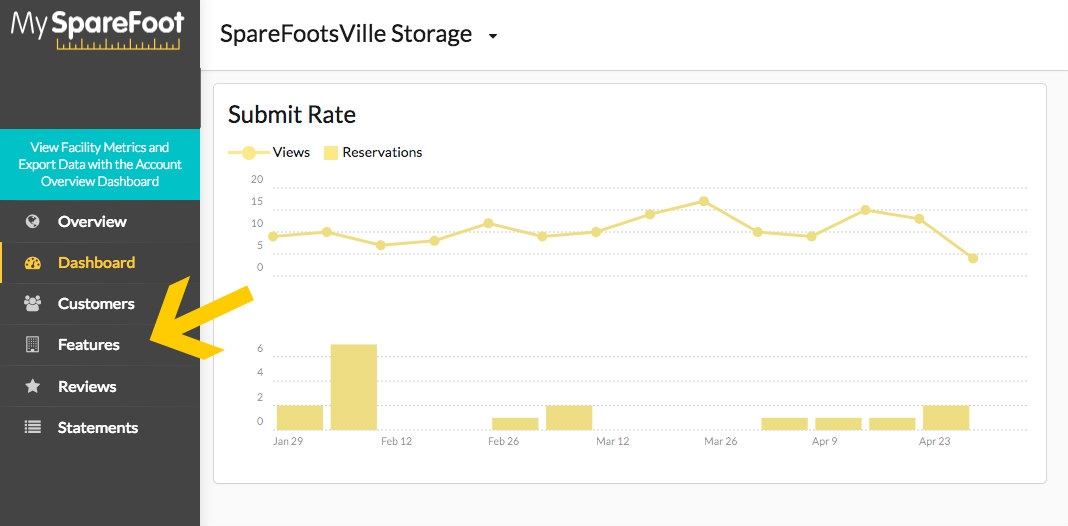 Second, navigate to the "amenities" area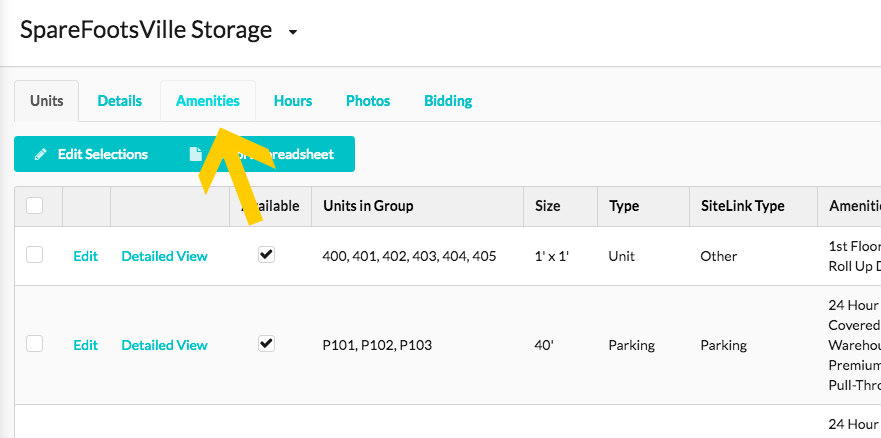 Specifying Your Amenities in MySpareFoot
Scroll down the list of available amenities, clicking the "Yes" or "No" options for each amenity to let customers know what's available at your facility. Once complete, click the "Save Changes" button at the bottom of the tab.
Your amenities will appear listed under the Features heading on the far left side of your SpareFoot.com listing - click the "View on SpareFoot.com" button on the top right-hand corner of the Amenities tab to take a look! Please note: Any changes made in your MySpareFoot account will take about 15 minutes to update to your SpareFoot listing. 
For reference, here's a quick summary of each of the amenities listed in MySpareFoot: 
Moving Options
Amenities your facility offers to facilitate the moving process.
Truck rental
Does your facility rent trucks for customer use?
Free use of truck
Are some or all customers eligible to use a truck for free as part of their lease? If so:

Truck distance limit: Are there any mileage restrictions on use of the free truck?
Truck insurance required: Are customers required to purchase insurance through your facility? If so, click Yes. If customers may use their own car insurance, click No.
Tenant refuels: Does the tenant need to fill up the tank prior to returning the truck?

Loading dock
Does your facility provide a loading dock for customer use? If so, please be sure to note the maximum truck length the dock can accommodate.
Handcarts or dollies
Do you provide these items for customer use?
Elevator
Are all upper levels of your facility accessible by elevator? 
Moving supplies for sale
Do you sell boxes, tape or other moving supplies onsite?   
Security Options
Features your facility offers to keep tenants and their belongings safe.
Video cameras onsite
Are security cameras installed throughout the property for 24-hour monitoring?
Electronic gate access
Can tenants enter your facility's gated perimeter using a personal gate code?
Fenced and lighted
Is there a fence surrounding your facility's perimeter and lights in the aisleways?
Resident manager
Does your facility's manager live onsite at the property? 
Access
Important miscellaneous details about the move-in process and the services you offer.
24-hour kiosk
An electronic machine where customers can make payments, rent locks or complete their reservations
Bilingual manager
Is your facility manager fluent in more than one language? If so, please specify which. 
Mail or packages accepted
Do you accept mail or packages on behalf of your current tenants? 
Payment Options
Do you accept cash, check or credit cards? Select "Yes" for all that apply. If you accept credit cards, please select which ones.
Billing
Options your facility provides for billing and payment.
Email invoicing available
Are you able to invoice your customers via email each month?
Automatic payments available
Can customers put a card on file to be automatically charged each month?
Charge date
Do you charge customers on the first of each month or on the monthly anniversary of the day they moved in? Please select the appropriate option from the drop-down menu.
Security deposit required
Are tenants required to provide a security deposit at move-in? If so, please indicate the amount of the deposit, and whether the deposit is refundable at move-out - provided the unit is clean and undamaged.
Discounts
Do you offer discounts for military personnel, students or seniors? If so, please indicate the percentage amount. For military, please indicate whether the discount includes veterans and reserves as well as active military. 
Insurance
Do tenants at your facility need renter's insurance to store at your facility? Will you accept an existing renters or homeowners policy as proof of coverage, or do tenants need to purchase a new policy? Do you sell insurance on site? 
Protection Plan
Does your facility offer a protection plan as opposed to insurance? Would a tenant be required to purchase a protection plan? A protection plan is an agreement between the tenant and the self-storage operator. The operator would assume limited liability if the tenant's property is lost or damaged under the terms of the protection plan. 
Other Amenities
Other odds and ends that your facility may offer.
Band practice allowed
Do you permit bands to practice in any of your units?
Paperwork can be done remotely
Some facilities permit their tenants to fill out paperwork and sign their leases online to expedite the move-in process.
Vehicle Storage 
Requirements and restrictions for vehicle storage at your property.
Requires title
Does the customer need to show the title of the car to move in? 
Requires registration
Does the vehicle need to be registered? Does the customer need to show their registration to move in?
Requires insurance
Does the customer vehicle need to be insured? Does the customer need to provide proof of insurance to move in?
Must be drivable
Does the vehicle need to be in operational condition to be stored at your facility?
Maintenance allowed - Would a customer be allowed to perform maintenance on the vehicle at your facility?
Premium Services
Wash Station available

- do you have a wash station on site?

Dump Station available

- do you have a dump station on site for waste water from RVs or large vehicles?

General Maintenance

- do you offer general maintenance services at your facility?

Propane

- do you have propane available for purchase at your facility?

Diesel & gas

- do you have diesel and gas available for purchase at your facility?

Does State Inspections

- do you offer state inspections for vehicles?

Auto cleaning and/or detailing

- do you offer cleaning or detailing services?

Has Air Pump

- do you have an air pump on site?

Has Vacuum Station

- do you have a vacuum on site?

Has Ice Machine

- do you have an ice machine on site?

Water (Hose and/or Spigot)

- do you have water available by either hose or spigot at your facility?