MySpareFoot makes managing your SpareFoot account a breeze. With your MySpareFoot Dashboard, you have greater visibility into your performance on SpareFoot.
Each dashboard widget provides real-time insights into how customers interact with your SpareFoot listing.
To view your dashboards, navigate to the "Dashboard" area of MySpareFoot.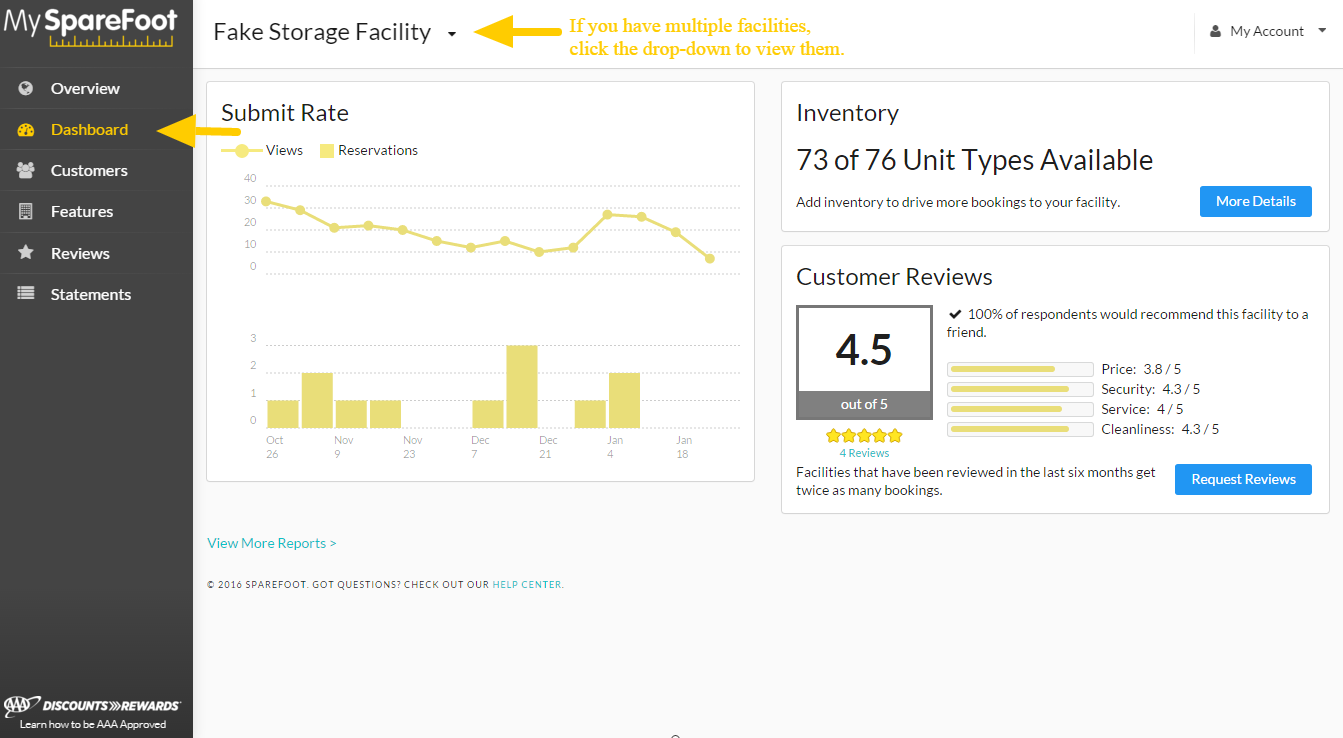 Inventory, Submit Rate, and Customer Reviews all appear on your dashboard. Each gives a detailed look at a different aspect of your SpareFoot account.
Think about SpareFoot as 4-step conversion funnel. Depending on your success at each stage of the funnel, potential customers will either move closer to a rent-paying customer or "fall out" and look elsewhere. Your MySpareFoot analytics give you insight into how well your listing attracts new customers and leads them through these steps until they move into your facility.
Inventory
In the Inventory widget, you see a quick snapshot of your available units and your overall supply.
TIP: On average, facilities with five or more unit types get 60% more bookings than those with only one unit type. In other words, add more of your available unit types to bring in more customers. Learn more about adding inventory here.
Submit Rate
Submit rate is the relationship between stages 2 and 3 in the funnel; it's the percentage of views to your listing which lead to a reservation. So, a high submit rate means that customers who view a listing on SpareFoot like what they see and reserve a unit. Weekly views are indicated by the line graph up top, while weekly reservations are shown in the bar graph below. Divide your reservations into your views to know your Submit Rate.
The average submit rate is 9.5%. As you can see in the graph, as your views go up, so do reservations. Improving your submit rate then boils down to a two-step process.
First, drive more views to your listing.
To get a better understanding of how your listing attracts views, put yourself in the customer's shoes by searching yourself! Just type in your zipcode on SpareFoot and see how you appear in the search results. These are the main factors that drive more views to your listing:
High Ranking on SpareFoot AdNetwork: Just like in Google results, a higher search ranking on SpareFoot leads to more views. In fact, the top five facilities in search results typically win 70% of reservations. Learn more about how we calculate SpareFoot rankings in our rankings guide.
Competitive pricing: Customers on SpareFoot are often expert bargain-hunters. While a great deal is often a major deciding factor, simply keeping your prices current and consistent is crucial to promote transparency and trust with your customers. Update your unit prices regularly, and don't forget your promos, discounts and freebies!
Varied unit mix + availability: The more variety you include in your listing, the more opportunity a customer has to find what they're looking for. It's easy to add units and update your availability or reservation window in MySpareFoot according to your facility's occupancy.
Plenty of customer reviews: Let happy customers do the marketing for you! Storage-seeking customers on our network are 50% more likely to choose facilities with online reviews over those without. You can learn more in the Customer Reviews Widget section below.
Next, convert your views into reservations.
If your views are strong but your reservations are low, your listing isn't converting well. Here are some tips:
Good amenities: Showcase the features and offers that set your facility apart. Our surveys showed 45.43% of customers said access hours were an "extremely important" part of their buying decision, and 59.07% said the same about facility security-- which means your amenities can make the difference between a customer reserving your unit or moving on to a competitor Learn how to add them to your listing here.
Respond to negative reviews: Showing professionalism and authority in your response can often turn a negative experience into a positive one. Check out our review response guide to take control of your online reputation.
Facility photos: Better photos = more reservations! Beef up your listing with 3-5 quality photos of your facility depicting unique amenities, a well-kept exterior and your spotless front desk. Learn more about taking quality facility photos.
A varied unit mix and lots of reviews help here too, just like in Step 1.
Rule of thumb: Your SpareFoot listing should communicate the value of your facility. For example: If you aren't the price leader in your market, call attention to the amenities that set you apart like security or truck rental.
Did you see reservations in your graph without any views? That's not impossible! Don't forget our Amazing Customer Experience Team— They work around the clock to send phone customers your way, but their reservations won't be reflected as views to your facility's public page.
Customer Reviews
The Customer Reviews widget shows you valuable data from the reviews that customers have posted about your facility.
More reviews means an easier decision-making process for potential new customers, and facilities that have been reviewed in the last six months convert 15% higher than facilities who don't have a recent review. Our suggestion— Aim for 3 new reviews every 6 months to boost conversion. We offer an easy-to-use tool that allows you to solicit reviews from your happy customers. Learn more here.
Your Feedback
We want to make sure that the insights and analytics we're surfacing to you are useful and comprehensive. Is there something we missed? Let our team know by submitting your feedback here.