Your monthly billing is 100% dependent on the way that your statement is reconciled in your MySpareFoot account. You have from the first of the month through the tenth of the month to reconcile your statement. We will then close the statement and bill your account on the eleventh.
These instructions pertain to SpareFoot users under the OneTime pricing model. If your account is set up on the RentPercent pricing model, read this article.
Accessing your statement
To let us know which SpareFoot customers did not move in during the previous month, you'll need to navigate to the Statements section of your MySpareFoot account.
1. Log into your MySpareFoot account
If you need help logging in, check out this article.
2. Click
Statements
in the menu on the left side of the screen.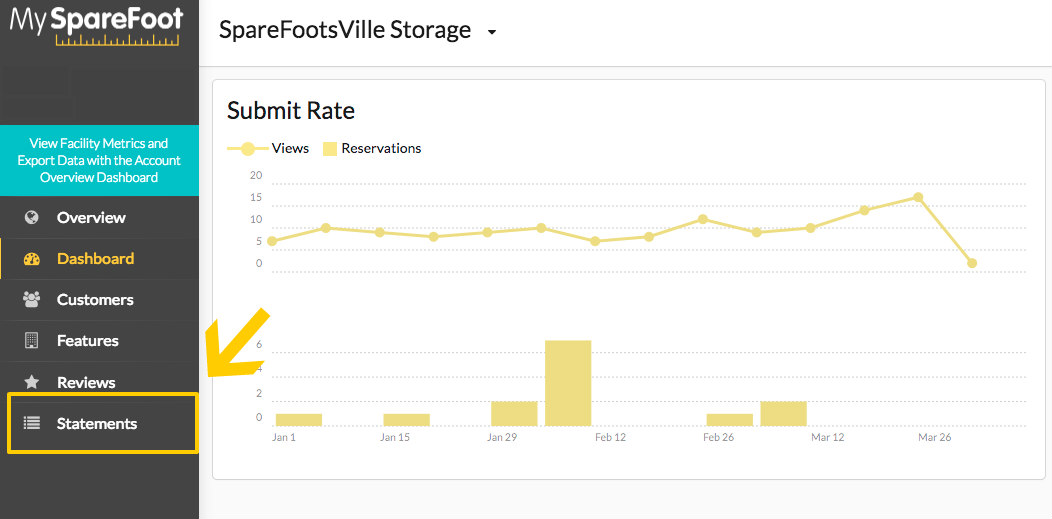 3. Click Reconcile Statement.
(Please note: If you visit the Statements page outside of the reconciliation period, you will only see the Statement Archive and Billing History)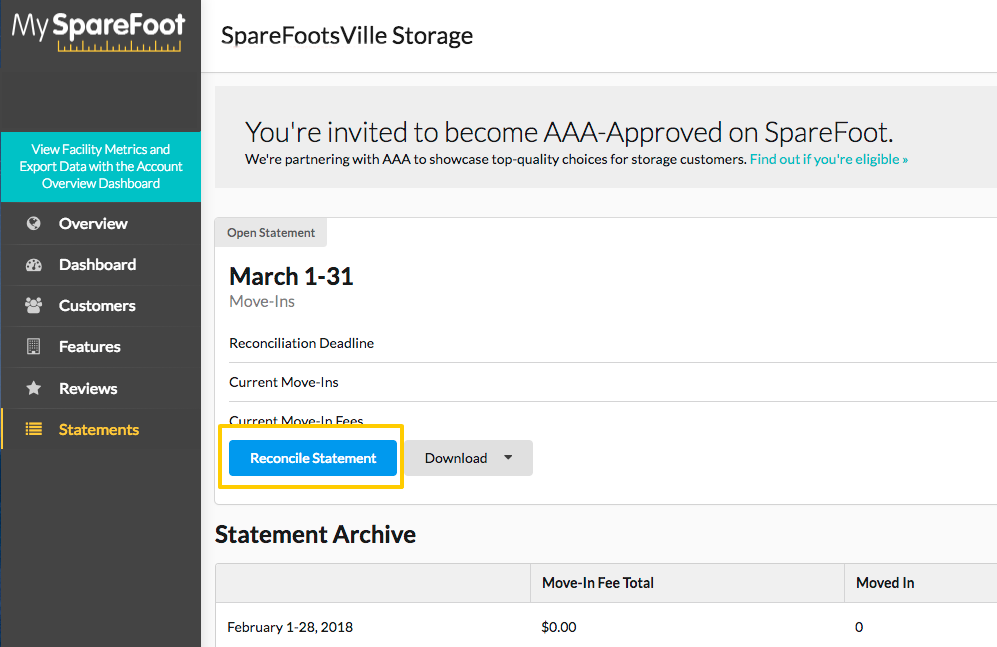 If your account is Integrated, click here for next steps specific to your account set up. If your account is not integrated, continue below. To learn more about integration, check out this article.
Manual/Non-integrated accounts
Statement sections
Your statement is broken into two sections: Late Move-Ins and Needs Your Review.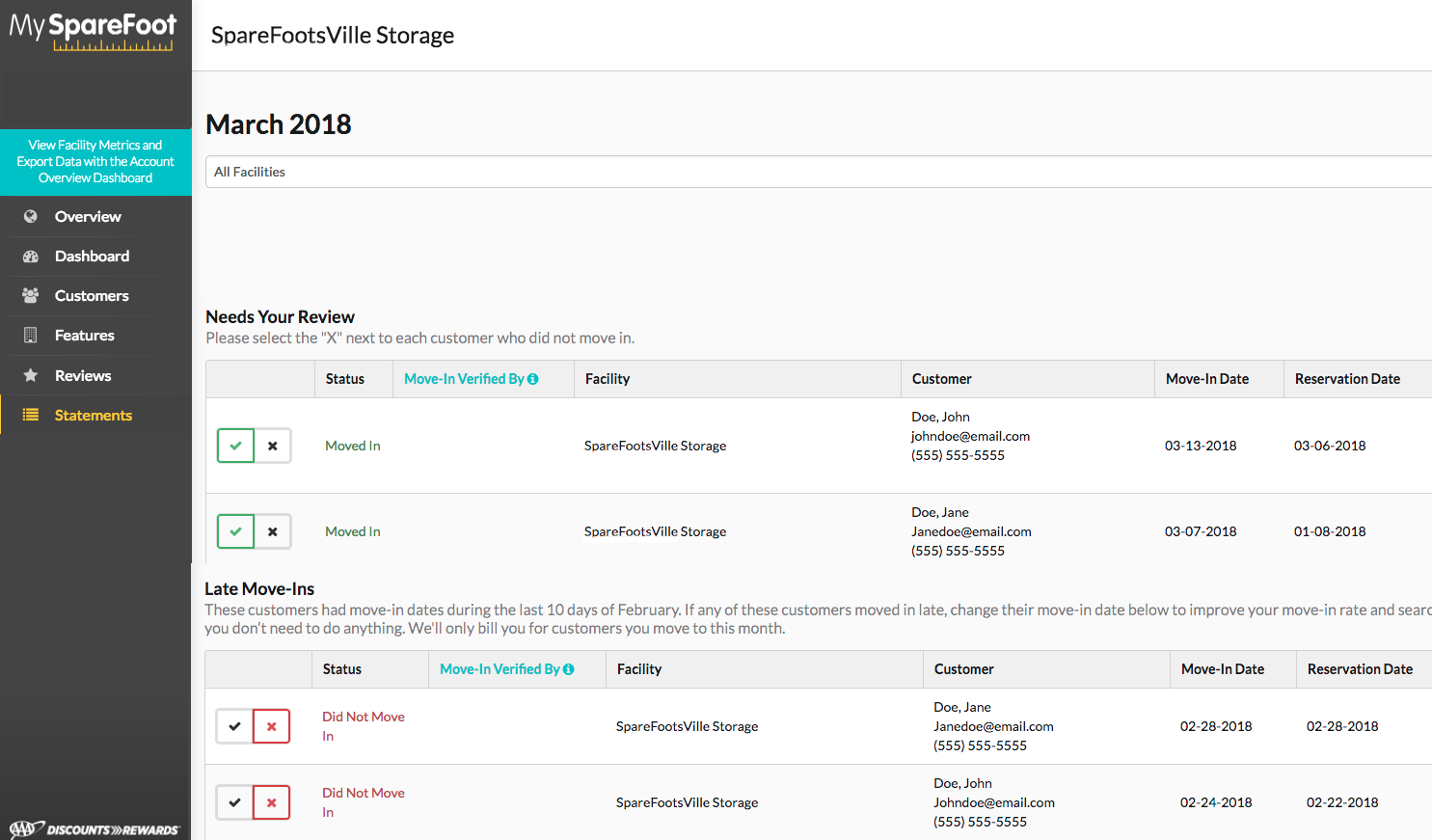 Needs your review

-

These are new customers who made reservations with a move-in scheduled for the previous month. This is where you will report the move-in status of these reservations. All you need to do is click the

X

next to any customer who did not move in.

Late move-ins - These are customers who were on your statement last month and you marked that they did not move in. These customers had scheduled move-in dates close to the end of the month, so there's a chance they moved in a bit late. By default, we assume these customers did not move in, But if one of these customers did move in late, simply click the green check box to confirm the move-in.
Once you've reviewed all of the reservations in both of these sections, just click Confirm at the bottom of the page.
Clicking confirm does two things:
We'll automatically opt you out from receiving reminder emails to reconcile your statement that month. This doesn't submit your balance for billing and you can still login to your account to make changes before the statement period closes.

If you have multiple properties or multiple users reconciling, you can see a complete list of users who have confirmed their statements.
Minimum Move-In Rate Fee
Manual (non-integrated) facilities are charged an additional fee each month if your Move-In Rate (MIR) is less than 50%. You can learn more about this fee in our article: How are SpareFoot Fees calculated? (OneTime Pricing).
Integrated accounts with Auto-Reconciliation
If your account is set up with Auto-Reconciliation, we match-up SpareFoot customers who have moved into your facility to make reconciliation easier and save you time. Instead of all of your new customers showing up in a "needs your review" section, we use the information from the integration to split them into two sections:
Auto-Matched (customers who moved in)
Unmatched (customers who did not move in)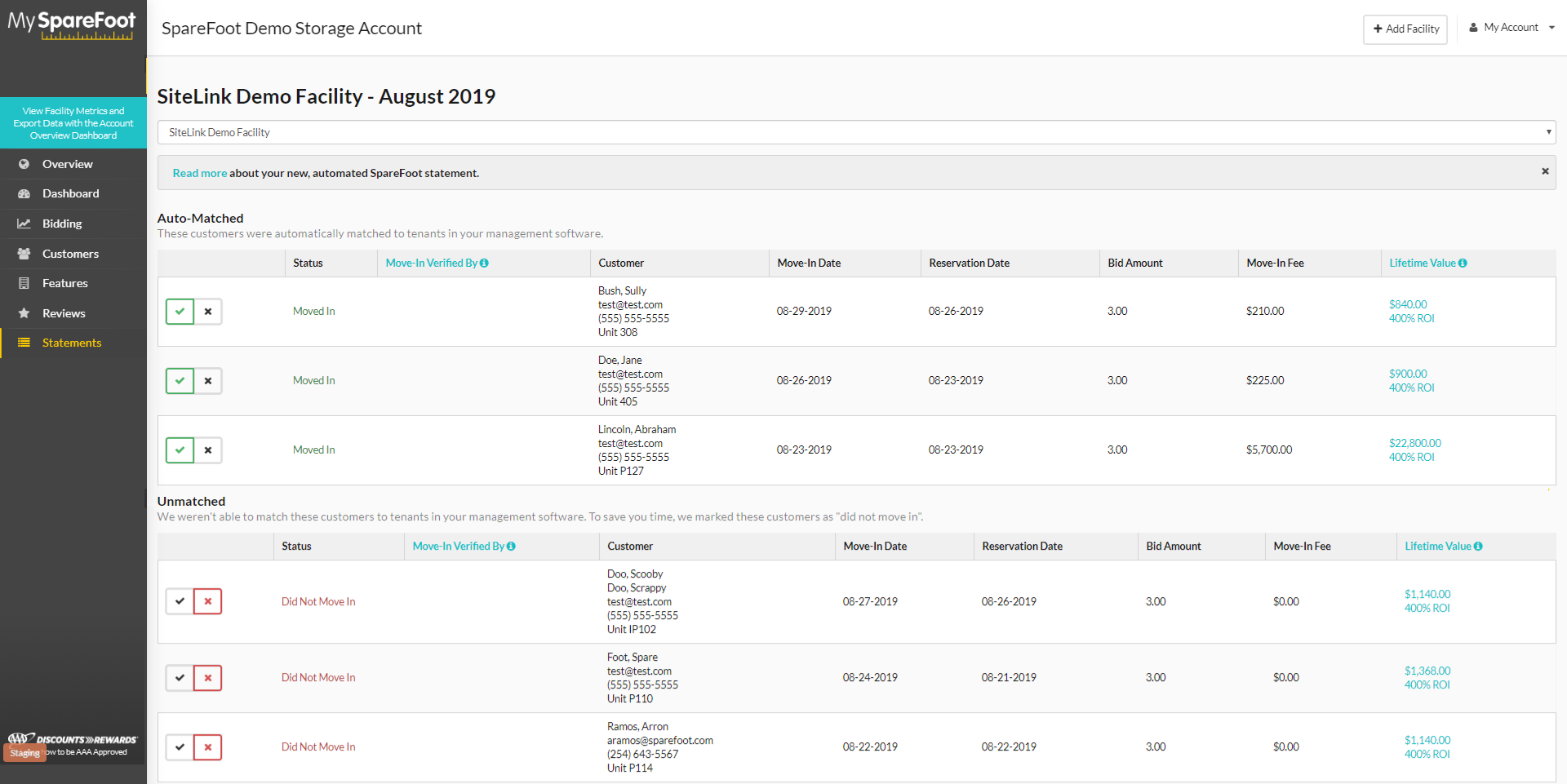 If you notice that any of this information is incorrect, you still have complete flexibility to edit charges by clicking the check mark (to let us know that the customer moved in) or X (to let us know that the customer did not move in) in either of these sections.
If you have any more questions about reconciling your monthly statement, check out this article.