This article is a resource for all clients taking advantage of the free integration between storEDGE and SpareFoot.
SpareFoot needs to know the full scoop about each of your units - what are the dimensions? The price? Are they inside or outside? Are they available for vehicle storage? All of this information is pulled directly from the storEDGE API. storEDGE unit amenities are fully customizable, but SpareFoot looks for certain keywords and phrases in your amenities to properly represent them on your listing.
What attributes are available in MySpareFoot?
Although, it's possible to add whatever unit attributes you'd like in storEDGE, SpareFoot has a finite list available. If there's any other unit attributes you'd like to show, please let us know! We're always looking for feedback on how we can improve our product. Take a look at the list below to see what amenities are available:
Space type

Length and width

Height

Floor

Outdoor/Interior access

Drive-up access

Door type (roll up or swing)

Climate controlled

Humidity controlled

Air cooled

Heated

Power

Alarm

Light in unit

Shelves in unit

Stacked space

Underground level/Basement

Available for vehicle storage

Pull-through

Parking warehouse

Uncovered/covered

ADA accessible

Premium location



Editing unit data in storEDGE
From the Corporate level, click the Settings icon in the menu column on the left. Then, click the Software Setting tab at the top of the screen and select Unit Amenities.

From here you can add and/or edit any unit amenities that you would like to use at your facilities. It is important that all unit amenities are added individually. This will ensure proper tagging on SpareFoot.
Navigate to one of your facilities and click on Settings and then Units.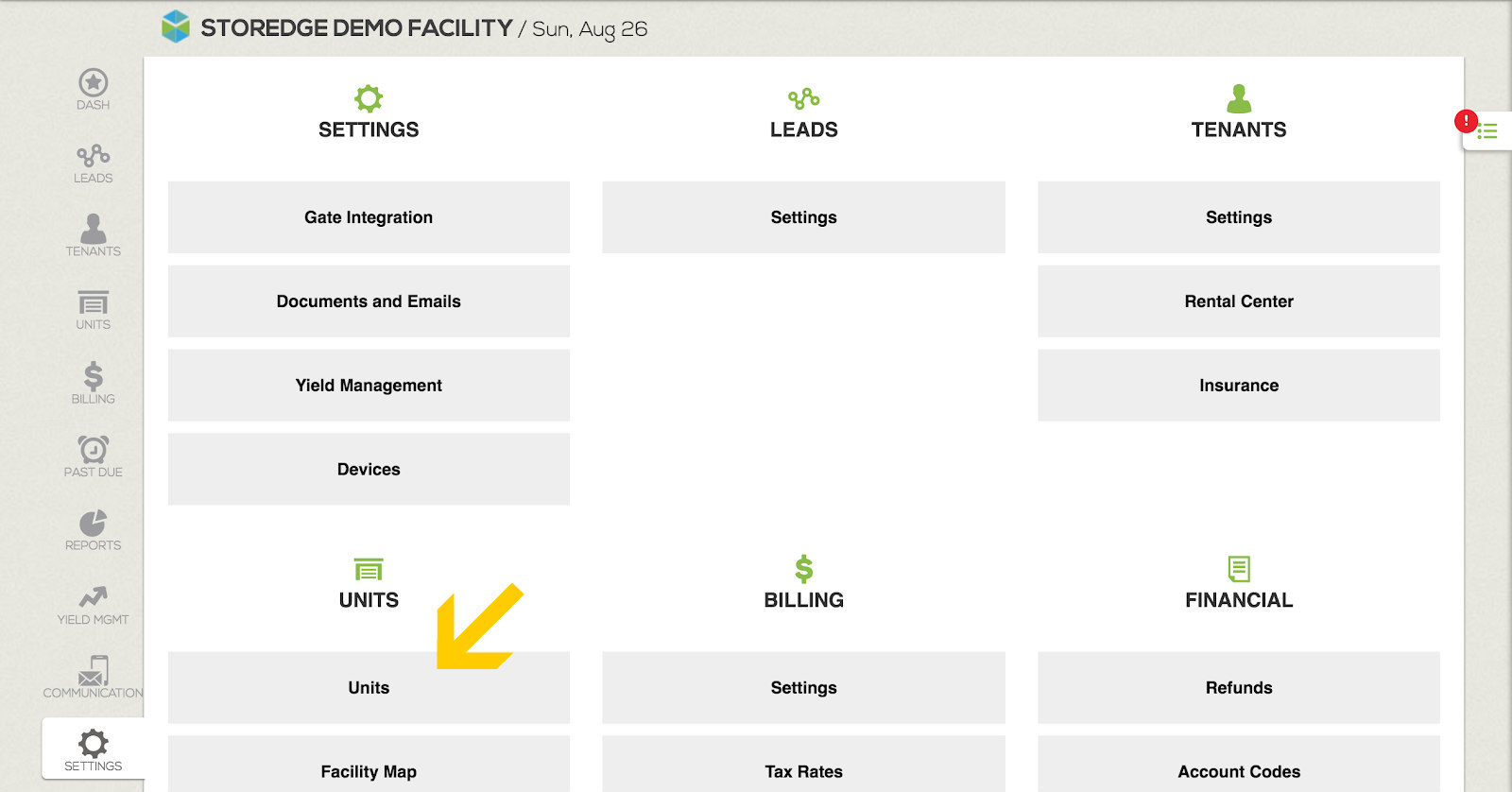 Select a unit group and click the Edit button on the far right.

On the Edit Unit screen, scroll down to the Unit Details section and select all of the appropriate amenities for the unit group. From this screen you can also confirm the unit type, the price, the dimensions, the door type, the floor, and the access. While it is possible to create custom unit details, if an attribute already exists as an option in storEDGE, please use that rather than creating your own.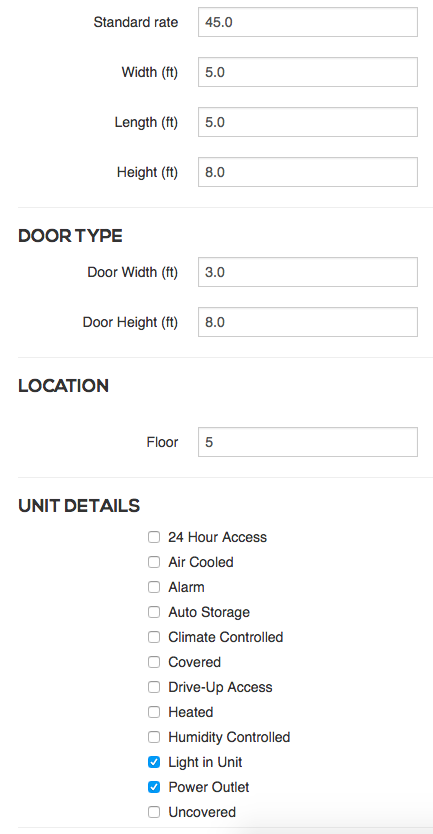 Make sure you scroll all the way down and click the Save button!
Please note, changes to unit attributes will not update in MySpareFoot until the nightly sync. If you'd like to see those changes earlier, please reach out to our Support Team for assistance. We may also need to adjust the settings on our end to properly translate the amenities you've created.