What is Auto-Reconciliation?
Auto-Reconciliation makes reconciling your monthly statement easier and saves you time by matching up reservations you've received from SpareFoot with tenants who have moved into your facility. We've also found that facilities with Auto-Reconciliation have an average move in rate that is 34% higher than those who don't. This results in better ranking on SpareFoot.com, leading to even more reservations!
The following integrations are available for Auto-Reconciliation:
SiteLink

Centershift 4

Quikstor

storEDGE

Easy Storage Solutions
How does it work?
Customers often move in under an alternate name and it can be time consuming for you to check customer information and determine if a move-in came from SpareFoot. Our system looks at the following information from your SpareFoot reservations and tenant information in order to eliminate this process for you and save you time:
Customer name and alternate name

Phone numbers

Email addresses

ID numbers such as confirmation code and customer ID
If you have multiple facilities on your SpareFoot account, you may occasionally see that a customer who reserved at one facility moved into another of your other locations. The customer may have spoken to a facility manager and realized that one of your other facilities is a better fit due to location, amenities, or unit availability. Since this customer did reserve through SpareFoot, we will match the customer even though the original reservation was not placed at the facility they moved into. We will then bill the facility that received the move-in.
Customers often realize that they need a different unit size or different amenities than what they reserved. One of the benefits of Auto-Reconciliation is that we bill you for the unit that the customer moved into instead of the unit that was reserved. This means that you're always paying your SpareFoot fee based on the actual rent collected from the customer. Our system will match the customer based on the factors listed above, regardless of what unit they move into (including units that may not be shown on your SpareFoot listing).
What does an auto-reconciled statement look like?
Statements look visually different when using Auto-Reconciliation vs. manually reconciling. Auto-reconciled statements are broken into two sections:
Auto-Matched (customers who moved in)

Unmatched (customers who did not move in)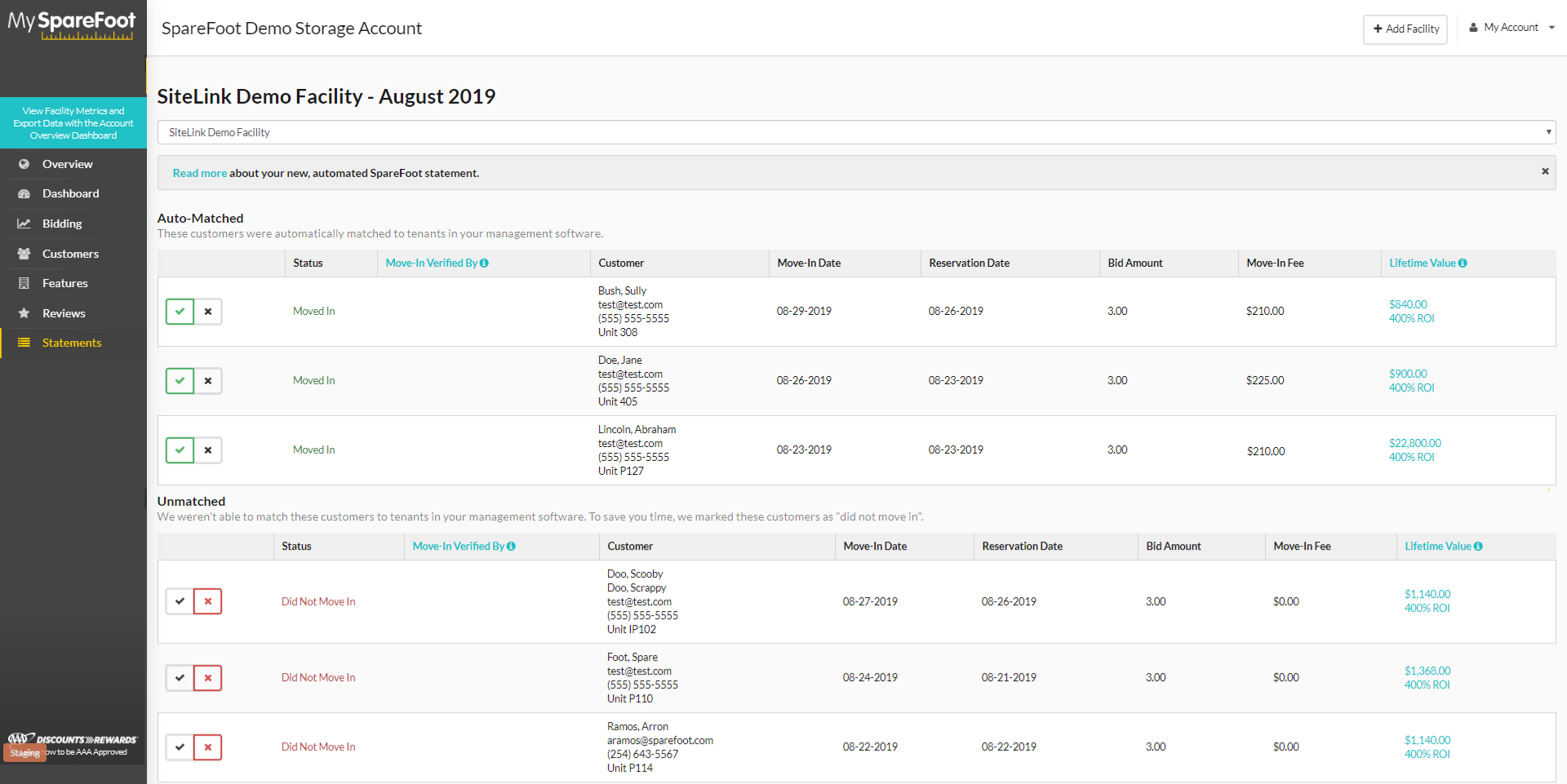 If you notice that any of this information is incorrect, you still have complete flexibility to edit charges by clicking the check mark (to let us know that the customer moved in) or X (to let us know that the customer did not move in) in either of these sections.
Keep in mind the match reasons listed above since our system may have matched the reservation based on information other than the customer's name, such as the phone number or email address.
Do I still have to check my statement each month?
Even though our Auto-Reconciliation feature is highly accurate, we still recommend that you review your statement to ensure everything is correct. Please note that once the statement closes your bill cannot be adjusted.